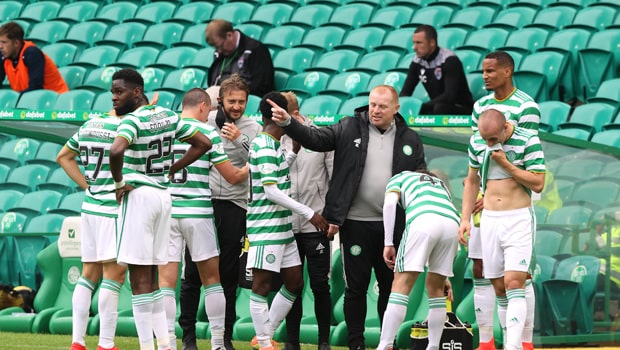 It has been a long time since Celtic has not taken the Scottish Premiership pole position from the start and kept it until the final whistle. It is only fitting that the change has come in 2020, a year that will be remembered as a complete chaos either way. But the matter of fact is that Celtic find themselves in a bit of a pickle with one third of the season already gone.
The challenge thrown at Celtic's way is not coming from a surprising source. The local rivals, finally back with a bang from their own times of trouble, Glasgow Rangers have taken the throne for now and rightfully so. Steven Gerrard's squad is yet to lose in the Premiership this season and they've performed as well as Celtic ever has in the past 9 victorious seasons. The Gers have scored a hefty 37 goals in 14 games and conceded, wait for it, amazing three times.
That is 3 goals allowed in 14 games, averaging 0.214 per game. The only two blemishes to their otherwise perfect record came in the away draws against Hibernians two months ago and Livingston a month before that. Needless to say, Rangers seem unstoppable at the moment and their wrath was felt just before the break by Hamilton, who took a complete 8-0 hiding at Ibrox Stadium.
While Rangers seem dominant at the moment, Celtic has had a plethora of issues despite having the upper hand in most games, as is usual. But this season the tight fought games have not turned to the Hoops advantage the same as before and at times, like in their home Old Firm loss to Rangers, Celtic has looked utterly toothless. In that particular game, which Rangers won 0-2, Celtic had no shots on goal despite launching five efforts and controlling 57% of the ball. Rangers shot 5 on goal scoring twice and ran out as deserved winners. Statistically speaking Celtic are right up there with Rangers: they've scored 32 goals against Rangers' 37 and conceded a nifty 11 in 12 games, which is excellent if not as astonishing as Rangers number. The silver lining is that Celtic does have two games in hand and with a current eight-point separation, by winning those two Neil Lennon's squad would be within a striking distance – and there's one more Old Firm left to decide the ruler of Scottish football.
Celtic will take on Hibernian in Edinburgh on 21st of November before returning to action in the Europa League on Thursday the 26th in a road game against Sparta Praha. Don't miss out on Dafabet's Celtic FC prediction challenge to win free weekly bets!
Leave a comment