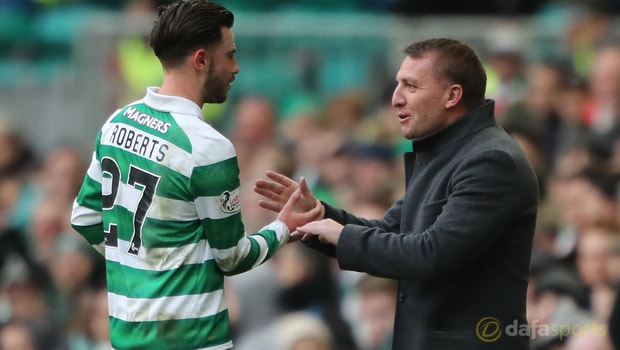 Celtic manager Brendan Rodgers is still holding out hope the club can agree a permanent deal with Manchester City for on-loan winger Patrick Roberts.
Roberts joined the Scottish giants last summer on a season-long loan deal and he has been a regular fixture in the first team, making 31 league appearances and scoring nine goals.
The England Under-20 international has been receiving rave reviews for his performances in this campaign and he played a huge part in helping the club win the Scottish Premiership for the sixth straight year.
His future at the Etihad Stadium still remains unclear with manager Pep Guardiola again expected to be busy in the summer as he aims to revamp the squad following a poor title challenge this term.
New arrivals would see the 20-year-old slip further down the pecking order and this could strengthen the chance of Celtic making his loan deal permanent in the next window.
Rodgers has spoken about the possibility of signing Roberts and the former Liverpool boss is holding out hope an agreement can be made for the talented winger.
"No, it's not [unrealistic to keep Roberts]," The Glasgow Evening Times quote the Celtic manager as saying.
"But I think for the twentieth time I'm going to say he is going back to Manchester City.
And for the twentieth time I will say he is a Manchester City player. "If there is ever a chance to bring him back, we will bring him back.
That is it. That is the story. He's here on loan and if there's a chance for him to come we will look to take it."
It is believed an offer around the £4-5million mark would be enough for Celtic to sign Roberts this summer.
Leave a comment