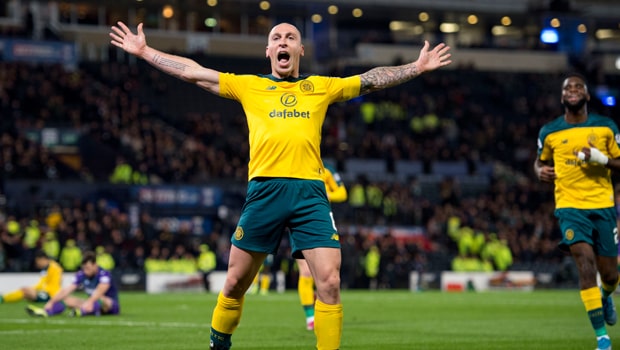 Another weekend, another great result for the Scottish Champions. Neil Lennon's team have a lot to be proud of after paving their way to their fourth straight Scottish League Cup final on Saturday. While the competition is not the most prestigious or the trophy the most coveted one, it has become somewhat of a tradition for Celtic to win everything there is to win in Scotland. Moreover, they got their revenge over Hibernians, who caused Celtic their first draw of the season and now provided a good target practice for the midweek fixture against Lazio.
The Celitic are provided a luxurious 11-day break from the Premiership action and five day's rest before the Europa league fixture agains Lazio at Rome. Neil Lennon had a chance to play most of his usual starting XI in the cup-fixture against Hibernians, but also allow match practice for those like Tom Rogic, looking to get back to playing fitness. There was never a doubt Celtic will push through at Hampton Park in front of 46 782 spectators.
The Celtic started the game off with a blast. Only twenty minutes had passed before the game was 0-2 for the Celtic, who were deemed as visitors in the neutral field semi-final fixture. First it was Mohamed Elyounoussi giving Celtic the lead on 17th minute with his fifth goal in the last four games in domestic competitions and then three minutes later Callum McGregor added another with his second of the season. The free-flowing and entertaining game saw Hibernian hit back on 36th minute by Melker Hallberg, but Celtic couldn't be contained. Elyounoussi scored once more a minute before the half and gave Celtic 1-3 lead heading to the dressing room.
Hibernians fought valiantly, but Celtic was simply too strong. Scott Brown was the next on the scoresheet on 56th minute, but Hibs retaliated instantly and clawed back within two goals only two minutes after the Celtic's fourt goal. That was as close as the Hibernians could get and Scott Brown nailed the nail to the coffin on the 90th minute with his second of the night and made it 2-5 Celtic.
Despite conceding two goals, Celtic performed well and duly deserved the victory. The team looks well prepared to take on their biggest challenge so far in the season, an away fixture at Rome against Lazio on Thursday. A win would put them through the Europa League group stage already with two games remaining.
Lazio vs Celtic (1×2): 1.66 – 3.65 – 4.10
Celtic vs Motherwell (1×2): 1.18 – 6.60 – 12.00
Leave a comment