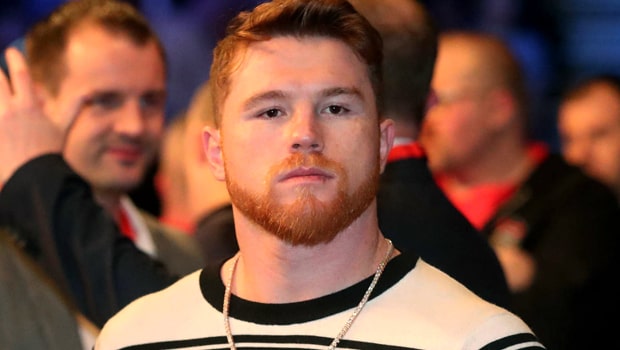 Oscar De La Hoya, the promoter of WBO light-heavyweight champion, Saul' Canelo' Alvarez has said the Mexican boxer is now the best pound-for-pound fighter in the world today, and he has to be given the acknowledgement.
De La Hoya is saying this after the four-weight world champion defeated Sergey Kovalev in the WBO lightweight bought.
"You can't tell me Terence Crawford or Vasiliy Lomachenko or anyone else in boxing is daring to be great like Canelo," De La Hoya, a former boxing professional added. Crawford and Lomachenko, are the other top players in the rank of Canelo but they are three-weight world champions, Naoya Inoue, the Japanese pocket-rocket who also fall into this bracket cannot be discounted.
Alvarez finally got his fourth division title on Saturday night by winning the WBO light-heavyweight title against Kovalev, who he knocked out in the 11th round. Alvarez, who doesn't care about accolades, had said what he cared about is creating history. The Mexican boxer is doing that without any doubt with his abundant skill. It should also be noted that Canelo is at the peak of his career at the age of 29. In his 56 fights, he has 402 rounds in his locker.
What marvelled fans was his elite-level defense used to knock out Kovalev, who is 20 pounds heavier than him.
Alvarez has a trademark weapon, thumping body punches. Also important to him is his right hand. In the win over Kovalev, he was impressive as he used other options when the body punches didn't work out.
Speaking about the body shots he got from the Russian who is bigger than him, Canelo said he was able to deal with it, adding that it was very difficult to get to his body.
So, who should be Mexican be looking forward to next?
Meanwhile, Callum Smith has warned the Mexican that he is the 'No 1' at super-middleweight. This is, therefore, a challenge for Alvarez, who could be to go for another title at 168lbs.
It's not only Smith that is willing to ruin Cinco de Mayo for the Mexican fans, fellow super-middleweight champions; Billy Joe Saunders is also challenging the big-hitting Alvarez. Also, WBO middleweight title-holder Demetrius Andrade might be considered for his next bout.
Speaking to Skye Sports, Smith thinks the Mexican will come down, whether he goes back to 160[lbs] or 168[lbs].
"I've seen an interview, saying he'd consider cruiserweight. I don't know, but if he comes to 168, I believe I'm the No 1 in that division, so he'll have to come and beat me to take that place."
Leave a comment