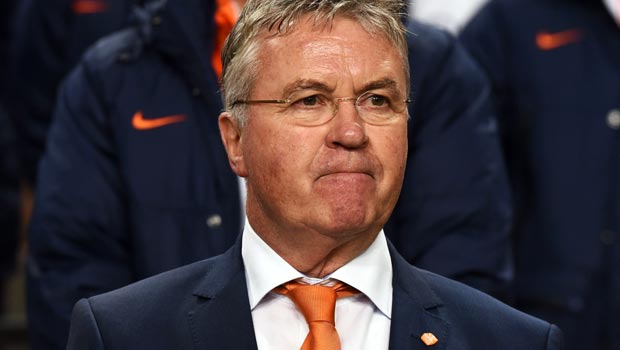 Former Netherlands star Ronald de Boer says national coach Guus Hiddink has 'lost it' and should be replaced at the helm by Danny Blind.
Hiddink took charge of Holland after they reached the World Cup semi-finals under Louis van Gaal, who left the post to manage Manchester United.
The Dutch have lost four of the six games under the new boss and he has come under heavy criticism following defeats against the Czech Republic and Iceland.
Last week they were beaten 3-2 by Mexico and despite thrashing Latvia 6-0 in their most recent outing on Sunday, there are still calls for Hiddink to be sacked.
De Boer believes the 68-year-old's position is untenable and has added his name to the growing list of those calling for the manager's head.
"Guus Hiddink has lost it," he told Fox Sports. "Normally a coach has an idea, he wants a to go in a certain direction. But then he takes them in a completely different direction.
"Against Mexico, he plays with a defence that he then decides is no longer good enough to play against Latvia. What kind of logic is that?"
Hiddink threatened to quit as Netherlands boss if they failed to beat Latvia and looks set to continue the role for the time being.
Should the veteran leave de Boer is calling for assistant boss Blind to take over.
He added: "It seems logical to me to give Danny Blind a chance. I'm sure Danny can handle it."
Netherlands are currently third in Euro 2016 qualifying Group A with two wins from four games and are priced at 1.75 to go on and win the group.
Leave a comment