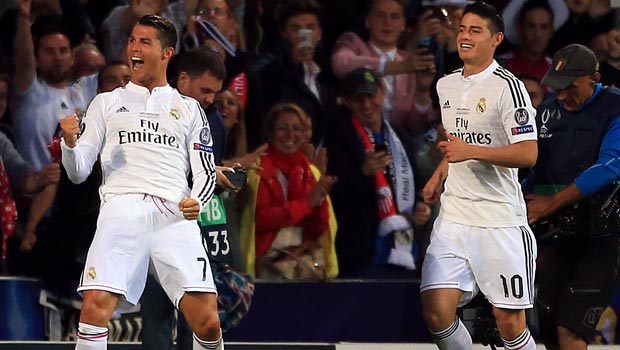 Real Madrid midfielder James Rodriguez has denied suggestions that Cristiano Ronaldo is arrogant just days after the 2014 Ballon D'or winner was sent off.
The former Manchester United star was unable to get involved during his side's 2-1 win over Cordoba on Saturday afternoon.
Carlo Ancelotti's side fell behind inside the third minute but managed to secure a win in the dying seconds. A Gareth Bale penalty saved Ancelotti's side all three points but Ronaldo came under heavy criticism after he was dismissed.
The forward lashed out at Edimar before dismissing the crowd's jeers by brushing the club's World Club Champions crest.
Some sections of the media have since branded Ronaldo as arrogant but Rodriguez has denied any suggestions that this is the case.
"Cristiano is excellent, both on and off the pitch. For me, he deserved his Ballon d'Or victory for what he achieved in 2014, yet he is totally modest," the Colombia international told the official Fifa website.
"We have a very good relationship.
"Out on the pitch, everyone knows how valuable he is, but it's impressive to watch how he trains and works off the pitch. That's where you see the real Cristiano, and you understand why he is where he is."
Real Madrid, 3.70 to win the UEFA Champions League, are next in action on Saturday against Real Sociedad where they will face a stern test.
David Moyes' side beat them earlier in the season but they have since dropped down the La Liga table.
Leave a comment