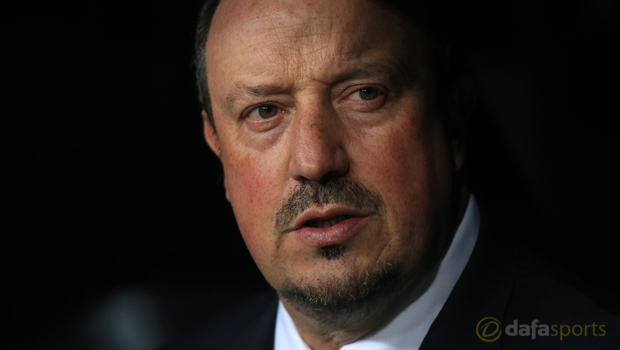 Real Madrid have given manager Rafael Benitez a vote of confidence and say they remain convinced he is the right man to lead them forward.
Benitez endured a torrid evening on Saturday as Barcelona came to the Spanish capital and humiliated his team with a 4-0 drubbing at the Bernabeu.
Madrid are now third in the La Liga standings after city rivals Atletico won 1-0 at Real Betis on Sunday evening, with Benitez's side trailing Barcelona by six points already.
Speculation over the former Liverpool and Inter Milan manager's future intensified when Real Madrid president Florentino Perez scheduled a press conference for Monday evening, but it was used to give Benitez the club's backing – at least for now.
Perez confirmed the board had convened on Monday to discuss the manager's position and they remain committed to their man.
"We analysed the sporting situation and I want to inform you that our coach Rafa Benitez has our full support and our full confidence," said Perez.
"He was picked for his professionalism, his achievements, his experience and his ability.
Rafa has just started his job here, let him keep working and he will achieve his objective."
The president added that Benitez enjoys good relations with everyone at the club although he admits things are always subject to change in Madrid.
"He has a good relationship with the players and he has a good relationship with the board and with me," Perez add ed. "But I only talk about this moment. I cannot say what will happen in the future. No-one can say what will happen in six months."
Benitez could use a victory when Real face Shakhtar Donetsk in Ukraine in the Champions League on Wednesday night.
The Spaniards are 1.91 to make it four victories from five games in Group A and they are 5.50 to go on and win the Champions League this season.
Leave a comment