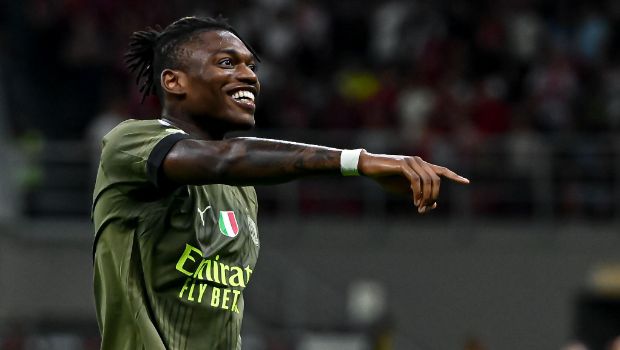 AC Milan striker Rafael Leao has said he never even considered leaving before signing a contract extension.
The Portuguese striker who aims to make history at this club is on international duty after the season came to a close.
Speaking at a press conference, he unveiled his plans for the future after ending the contract saga and put pen to paper on a new deal holding him at San Siro until June 2028.
He revealed that he had decided to stay at San Siro before signing the contract.
Having unveiled his plan to the directors, Leao explained that since he arrived in Milan, the club had given him incredible support. He said this is why he never even considered leaving or proposals from any other club.
"I want to make history with this club." He said.
Leao joined from Ligue 1 side LOSC Lille in 2019 and has been linked with numerous teams all over Europe. They include Paris Saint-Germain, Chelsea, Manchester City, Liverpool, and Manchester United.
However, he said the first choice was to extend at Milan and commit his future to the Rossoneri.
When asked during the press conference if he knows of reports Milan is interested in FC Porto striker Mehdi Taremi, who could be a competitor for him in the Frontline, he said it is not something he is supposed to be involved in.
Since he arrived in Italy, Leao has been a phenomenon for Stefano Pioli as he remains an important squad member.
With a new €175m clause included in his contract, Leao has scored 43 goals in 163 appearances, with the Rossoneri winning the Scudetto in 2021-22 when he was named the best player of the season in Italy's top flight.
He also changed his jersey number from 7 to 10 after Ibrahim Diaz returned to Real Madrid.
Leave a comment