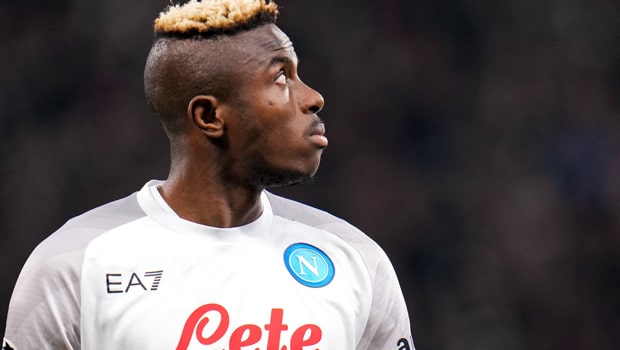 Reports from Italy have said that Paris Saint-Germain are lining up Napoli striker Victor Osimhen as a replacement for Kylian Mbappe.This follows the latest update from the club management that they won't allow the 2018 World Cup winner to leave Paris as a free agent next summer.
The Ligue 1 giant made their stance known after the star striker said he is not ready to activate the extra year clause in his current deal.
Osimhen had emerged as the highest goalscorer in the Serie A last season, leading Napoli to their first league title in three decades.
According to La Gazzetta dello Sport, the current development has made the Napoli star PSG's primary transfer target.
Napoli President Aurelio De Laurentiis is known to be a tough negotiator. So this is expected to be tough should Mbappé leaves this summer.
From a report on La Gazzetta dello Sport, Journalist Maurizio Nicita wrote on page six that Napoli have already rejected a €100m bid from PSG and have set their asking price to €180m.
Should Mbappé leave this summer, it will further strengthen PSG's budget, potentially allowing them to meet Napoli's asking price.
Meanwhile, the Serie A champions want to extend a deal with Osimhen beyond 2025 and are on good terms with the striker's agent Roberto Calenda.
The report says Lille forward Jonathan David could be lined up as Napoli's primary target should Osimhen leaves.
Meanwhile, former Lazio and West Ham star Di Canio blamed Mbappé during his latest interview with Sky Sport Italia on Saturday over the contract extension row.
Also blaming the club, Di Canio said Paris have put themselves in this situation because they indulged him. Now they must limit the damage and make a decision," said the ex-striker.
While lambasting the club for their error said he took advantage of this situation a year ago, and now he's doing the same, threatening to leave on a free transfer next year.
Describing the situation as absolute shame, he noted that Mbappe, who earns €200-300m, doesn't respect the club.
Leave a comment