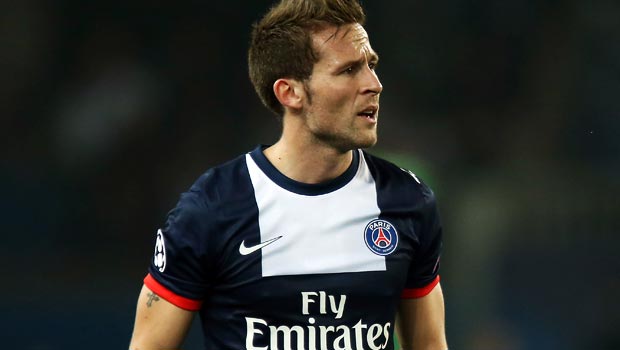 PSG midfielder Yohan Cabaye admits he is missing the Premier League as he struggles to gain regular first-team football in the French capital.
The France international moved to Paris in January from Newcastle United for 23million euros having previously been interested in a move to Arsenal the summer before, but since arriving Cabaye has struggled to complete a full 90 minutes with most of his action coming from the bench.
His nine Ligue 1 outings have accumulated just 302 minutes of football this season, something the midfielder is keen to address.
"You have to accept being a substitute, but I don't resign myself to that," said Cabaye. "When I am on the pitch, I feel it is not perfect and that I often have to leave too soon. But I know the coach and staff have to make choices and I respect that."
Fellow France international Blaise Matuidi and Italian Marco Verratti appear to be ahead of Cabaye in the central midfield starting positions and the former Lille player is now also concerned with his position in the national team if his lack of action continues.
"With the French team, if one day the national team coach decides to play me less because I don't play often enough for my club, then I would need to take stock with my representatives," he added.
The former Newcastle captain has hinted he may have made a mistake leaving England, but he is also keen to dampen any talk of an imminent return with his main priority being to help PSG, with the reigning French champions 1.22 to retain their Ligue 1 title.
"Do I sometimes miss England? Yes. Sometimes I think about it, but I immediately sweep that away because it would cause distraction," said Cabaye.
Leave a comment