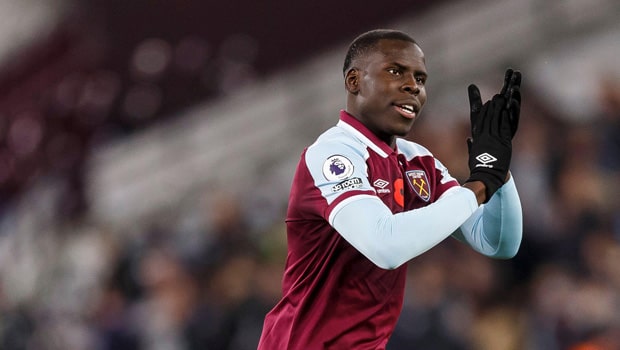 Liverpool were handed their first loss of the season as they came up short on the road, 3-2, vs West Ham. The win — and subsequent three points — puts West Ham in third place in the Premier League, just three points behind Chelsea.
"[The long unbeaten run coming to an end] is the least of my problems," Liverpool manager Jurgen Klopp said. "However long a run is, it will come to an end. There are couple of things that happened during the game that are difficult to take. If you don't take your chances, you're leaving things up to ref decisions."
West Ham have defeated the likes Liverpool, Man City, Man United, Tottenham and Leicester this season. David Moyes is putting on a clinic on set pieces and personnel selection.
"He gets better and better and better! West Ham are the full package," Klopp said of Moyes.
West Ham were fortunate early with an own goal from Alisson (4′) before taking the lead in the second half thanks to Pablo Fornals (67′) and Kurt Zouma (74′).
Liverpool evened the fixture at 1-1 in the 41st minute thanks to a beaut of a strike from Trent Alexander-Arnold before Divock Origi found the back of the net late (83′).
Origi's goal in the second half for Liverpool for his first time scoring in the Premier League since July 2020 vs Newcastle.
"A great performance today from everyone, everyone in the crowd help us against a great team," West Ham's Kurt Zouma said.
Liverpool dominated the possession battle 69-31, but had jut five shots on target compared to three for West Ham.
This win was even more important given the international break this upcoming week. West Ham just wrapped up period of seven fixtures in 22 days across three competitions — unbeaten at that.
"It was an open game but we were more clinical and stayed strong at the end and dug deep," Zouma added. "Tactically we had to be spot on today, so when they lose the ball we knew they would be open. We had a plan and it worked out today. That is why I came here, to help the team grow up. Keep improving, and it is like a family here."
Fornals clearly enjoys matching up vs Liverpool; that's now three goals in five games. "If you want to be ahead of us you have to come here and fight against us. That's how we play this season," Fornals said.
"It's a special group and a special environment," West Ham's 22-year-old star, Declan Rice, said.
West Ham are back in league action on Saturday, 20 November. Liverpool get set for a marquee matchup vs Arsenal the same weekend (20 November).
Leave a comment