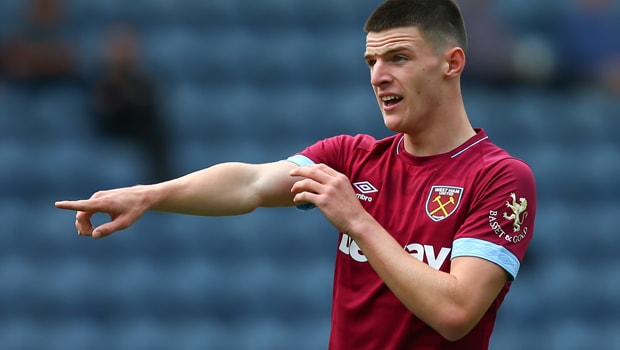 West Ham defender Declan Rice is considering switching his international allegiance to England, according to Republic of Ireland boss Martin O'Neill.
London-born teenager Rice has earned three Ireland caps after making his debut against Turkey in March but has not yet played in a competitive international.
He is therefore entitled to declare for the Three Lions, should he still wish to do so.
The promising defender has not been named in O'Neill's squad for the upcoming UEFA Nations League game against Wales and the friendly with Poland. The Ireland boss was unequivocal on Rice's absence.
"England have spoken to him. He is taking time to make his mind up," said O'Neill.
"He has done brilliantly for us. I'm giving him a little bit of time," added O'Neill.
"I wouldn't be exaggerating to say Declan has loved it with us.
"After the Turkey game, his father was there and it was a joyous moment for them. We have done everything we can. He has been welcomed by the squad, the fans. He is taking time and I am respecting that."
Back in March, ahead of the Turkey friendly, Rice had insisted there was "no decision to be made" regarding his international future.
Former Irish international Kevin Kilbane has quickly suggested that Rice should be shelved by the international manager.
Kilbane – who turned down an England Under-18 call-up, always wanted to play for Ireland having been raised in England by Irish parents.
"I'd rather be ranked 150th in the world and never qualify [for a major tournament] again than have someone who has played, but needs time to THINK whether they should play for us again.
Well done to [Martin O'Neill] for transparency," Kilbane wrote on Twitter.
Leave a comment