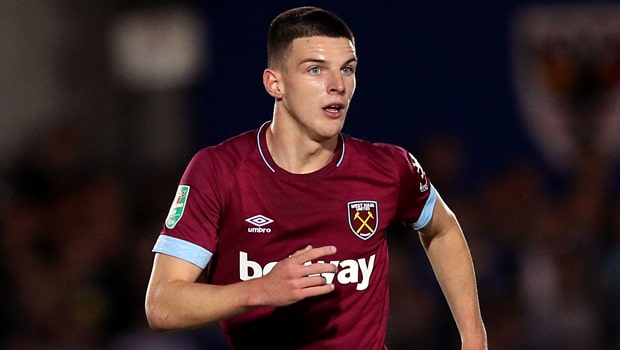 Both Republic of Ireland manager Martin O'Neill and England counterpart Gareth Southgate have played down speculation on the international future of Declan Rice.
The West Ham teenager has three caps for Ireland, though none of those have come in competitive games, meaning the London-born defender could declare for England under FIFA rules.
Ireland manager O'Neill expressed confidence when he met the media in Dublin on Thursday that Rice would re-commit after deciding to sit out the last two international windows.
However, Sky Sports were soon reporting that the Football Association was ready to instigate Rice's change of international allegiance by submitting the relevant paperwork on his behalf. That news was a 'surprise' to the Irish manager.
"I would be a bit surprised. Nothing surprises me in this life but I would be particularly surprised [if it were true]," said O'Neill.
"[The FAI press officer] has told me the story is inaccurate and [Sky Sports] are going to change it. "I've used the word 'hopeful' and that is where I stand."
Rice has impressed for the Hammers this season, though England boss Southgate last month told the teenager there were no guarantees he would be called into the World Cup semi-finalists' squad in the near future, should be declare for the country of his birth.
Southgate confirmed that he wasn't aware of any change in Rice's circumstances.
"I think I said last month there had been discussions but that hasn't been taken any further," he told talkSPORT.
"I said then, I think it was important that we gave Declan time to make his decisions.
"There's no update from our side on that so, yeah, I guess we'll know when we know."
West Ham are 2.80 to win at Brighton on Friday evening, with the home side 2.63 and the draw 3.20.
Leave a comment