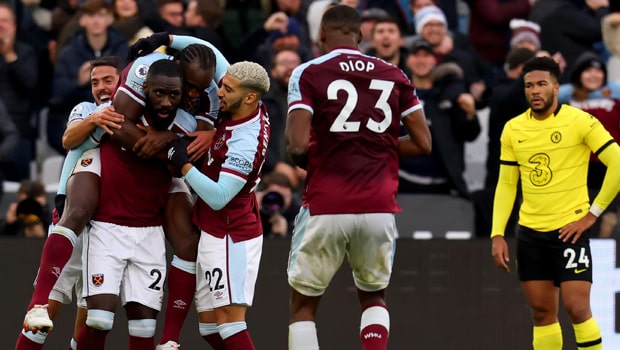 Saturday's Premier League action kicked off with an absolute thriller as West Ham took down league leaders Chelsea, 3-2, thanks to an 87th minute winner from Arthur Masuaku. Hammer time in London as they take the full three points from Saturday's fixture.
Thiago Silva opened up the scoring for Chelsea in the 28th minute before Lanzini evened it at 1 apiece at the 40th minute. Chelsea's Mason Mount found the back of the net right before the break, but the score was back to even 2-2 by the 56th minute thanks to West Ham's Jarrod Bowen.
"Everybody playing against Chelsea is finding how difficult it is," West Ham manager David Moyes said prior to the match. "We have seen the quality in Europe against Juventus as well so it's very hard to find any weaknesses in their team, they've got a really strong squad as everybody's aware. So it will be difficult."
Moyes' side has now defeated Chelsea, Liverpool, Man City, Man United, Tottenham and Leicester this season.
"Truthfully, we didn't play that well today, but we got the goals," Moyes said after the win. "Against a team that doesn't concede many, that's a great credit to the lads. I just said to Arthur, it was a great cross! It was very fortunate, let's not kid ourselves on, but you need a bit of fortune sometimes and we had some brilliant individual performances. But overall I want the team to play much better, and I think they can."
West Ham now are guaranteed another week inside the top four, with Chelsea now having to keep an eye on how Liverpool and Manchester City do in their respective matches this weekend.
"To beat Chelsea and say we're not playing well enough, hopefully that helps us," Moyes added. "We want to compete with whoever is in the top four, and I think we're giving them a game. We'll hang in, and see what we can do."
West Ham have won three top-flight games in 2021 against teams starting the day in the top three positions in their respective league table; that's the club's most such wins in a year since 1983.
"I don't think we did a bad match. An OK match," Chelsea manager Thomas Tuchel said.
"But it's tough to play here, and we did too many individual mistakes, and we got punished for it. We talked about it before, but it obviously did not help, and that's the story. The third goal is a strange one. We could not finish with clear chances and struggled to be ruthless. We made way too many mistakes, you cannot do it at this level. We need to play more accurately, more stable, and reduce big mistakes."
Chelsea's loss to West Ham marks their first Premier League loss after leading at halftime since December 2018 vs Wolverhampton. They had been unbeaten in 48 league matches when ahead at the break.
"That's what we're about as a team," Bowen said after the win. "The belief. We never know when we're beaten. We're big on putting balls in the box and sometimes you get a bit of luck."
Chelsea will look to get back on track over the next week as they have a Champions League matchup vs Zenit, followed by a Premier League fixture vs Leeds United.
West Ham have an upcoming mid-week matchup vs Dinamo Zagreb in Europa League before they face off with Burnley a few days later.
Leave a comment