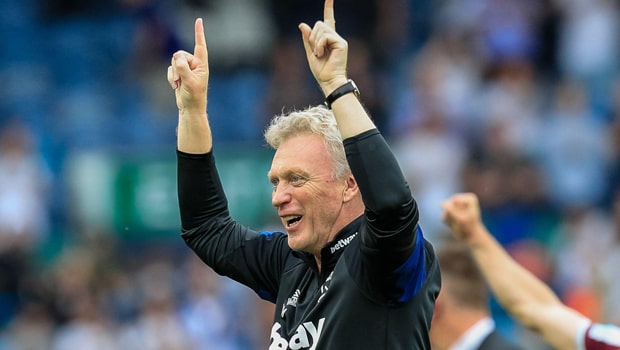 David Moyes, now with West Ham, returned to Goodison Park as his club earned a 1-0 win behind a second-half goal from Angelo Ogbonna.
"I was annoyed during the game because I thought our play warranted more goals but credit Everton, they blocked a lot of shots, defended their box well and we didn't show enough in the final third. I always thought it was going to be a tight game," Moyes said. "I want the team to challenge, I want the team to play well and give us a victory wherever we go. I think we have a good team."
West Ham recorded back-to-back wins over Everton for the first time since 1929-1930.
Ogbonna had two shots overall, 1 on target — along with 65 touches overall, 50-of-53 successful passes and 1 block.
A defender scoring the winning goal and a clean sheet is always something to celebrate.
"The players in the middle of the park like Dec [Rice] and Tomas [Soucek] they played fantastic," Ogbonna said of his teammates.
Moyes returned to face Everton after 11 season with the club.
"By the time I reached year 10 at Everton, I had real quality players, international players, and a balance with a team who understood me," Moyes said, ahead of Sunday's match. "But in year two at Everton, I didn't have the same quality of player as I have now at West Ham."
Moyes transformed a West Ham club that was facing relation into qualifying for European competition in just one season. The Hammers are finally living up to expectations.
"I think that is why the London Stadium is full – the fans watched West Ham during lockdown and thought, 'goodness, I'm missing that'," Moyes added.
West Ham won the possession battle 59-41, and had four shots on target vs two for Everton. Both sides had three fouls called against them, but West Ham did have two more corner opportunities than Everton.
"It was really tough today, I thought it was an excellent performance," Declan Rice said of West Ham's performance.
Rice won both his aerial duels, completed 13-of-15 passes in the final third, and created two chances. Quite the performance for the young footballer who continues to make strides in the central midfield.
Everton lost at home for the first time this season. Sunday marked the first time David Moyes defeated Rafa Benitez in a Premier League fixture since 2006.
"I was disappointed to concede, set piece or open play it doesn't matter. We spoke about how dangerous this team could be in the air," Benitez said.
Everton will be back in action next Saturday, 23 October vs Watford, while West Ham get set for a busy week with fixtures scheduled against Genk (Europa League) and Tottenham (Premier League).
Leave a comment