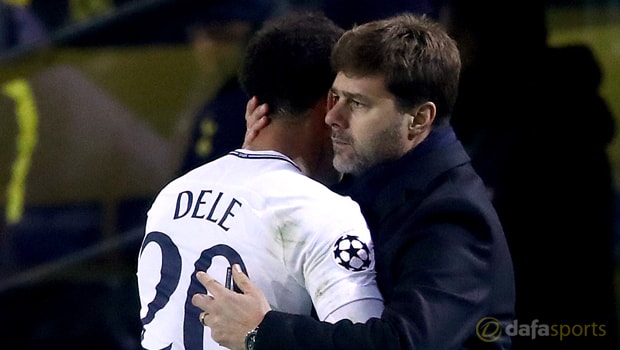 Tottenham boss Mauricio Pochettino says he remains happy with Dele Alli's form, though he admits there is now added pressure on the player.
Alli's first two seasons in the Premier League could scarcely have gone better, with the England international winning Young Player of the Year on both occasions.
This season, Alli has not found things as easy so far. He's enduring something of a lull personally, while the team are also struggling somewhat following two defeats and a draw in their past three league game.
Pochettino is standing by Alli, insisting he remains happy with his contribution, and that even the best players in the world cannot maintain a perfect level of form all season.
"I'm so happy with him, he's so young, he needs to find his balance but I am happy with him," said Pochettino.
"It's normal we expect so much from him because he's talented. We expect him to do unbelievable things every game.
"Senior players struggle during 10 months to keep the performances, with Dele he is young."
Pochettino's team are often accused of burnout late in a season given their high workrate but the Argentine says that is not an excuse for their recent struggles.
He admits he is still trying to figure out a solution.
"Christian Eriksen, maybe can be a little bit tired," said Pochettino.
"But mentally more than physically because in the last international duty he played two amazing games [in Denmark's World Cup qualifier play-offs].
"He cannot rest, cannot stop and of course maybe he struggled a bit but his condition is fantastic, after every game the stats are unbelievable.
"The other players I think not because Dele Alli was not involved in the first three Champions League games, we manage the rotation. This is not the reason the team has struggled."
Tottenham are 1.73 to win at Watford on Saturday. The Hornets are 4.75, while the draw is 3.80.
Leave a comment