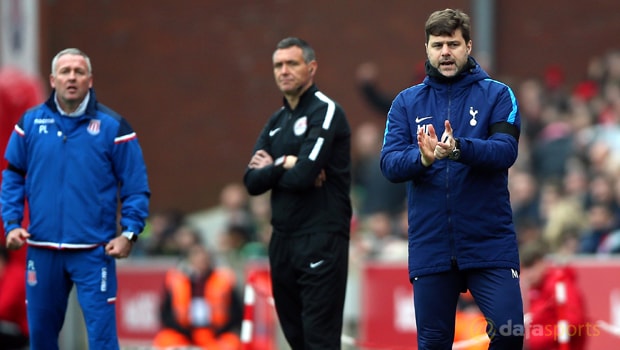 Tottenham Hotspur boss Mauricio Pochettino has played down the decision to award Harry Kane the second goal in their 2-1 win over Stoke.
After appealing to the Premier League goal accreditation appeals panel, Kane has now been credited with the goal, after Christian Eriksen had initially been listed as the scorer.
The news was greeted with some surprise by some of Kane's peers on social media, amongst them the Premier League's current leading marksman Mohamed Salah.
Kane now trails the Liverpool attacker by only four goals in his bid to win another golden boot.
"It is not a big deal, I promise you. Harry is generous and a person who always puts the collective ahead before himself," said Pochettino.
"Harry is a very honest person, he's not going to lie about this situation and it's not a big issue or big deal for the team."
Kane has been leading scorer in the Premier League in each of the last two seasons and his manager suggests a selfish streak helps in the pursuit of goals, while Pochettino also suggests he had Eriksen's blessing.
"Of course all strikers need to feel the net and score but Harry always shows his commitment with the team and team-mates," Pochettino added.
"I think during the game when they talked, when the goal happened, Harry said to Christian, 'I touched with my right shoulder' and after the game they were happy and Harry said 'It was my goal' and Christian said 'Okay, no problem'."
Salah is 1.14 to finish as leading Premier League goalscorer this season while Kane is now 5.50.
Leave a comment