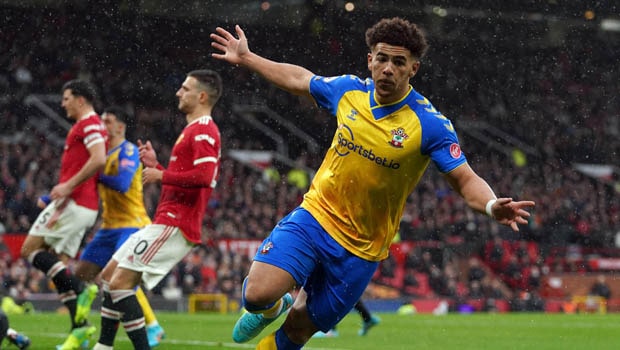 Manchester United — for the fourth time in six games — let a halftime lead slip away as Ralf Rangnick's side failed to move back up to fourth place in the Premier League standings.
"Unfortunately, again, it is very similar to the last couple of games," Rangnick said after the match. "A very good first half hour, we did all the things we intended to do with the counter attacks and deep runs, it's the way we created and prepared a great goal. But we stopped doing that, and in the second half we lost a bit of shape. We struggled to defend them in transition. We had enough chances in the last 20 minutes to score again, the expected-goal ratio was clearly in our favor, but in the end we didn't get the result we wanted to."
Jadon Sancho found the back of the net for United fairly early on (21′), but Southampton's Che Adams evened the match at 1-1 by the 48th minute.
"On the one hand, we have to respect that Southampton played well, they are not easy to play against," Rangnick added. "But we lost composure, and took the wrong decisions, sometimes under pressure, sometimes not. This is where we have to get better."
Adams won player of the match honors.
"We spoke about it with the lads, that's when they're at their most vulnerable," Adams said of United coming out of the break.
United blew a first half lead for the third consecutive game.
"It's not a big secret that when they lose the ball the reverse gears are not the best from everyone," Southampton manager Ralph Hasenhüttl said.
United won the possession battle 52-58, with eight shots on target compared to four for the opposition. Southampton did have four corners to just one for United.
"We had one day less to recover, we had heavy legs," Hasenhüttl said. "It took a little bit to get into our rhythm, but we started playing football in the second half. They had a better first half, we had a better second half, so the draw, we take it."
Southampton lost 9-0 last February in their last visit to Old Trafford. "Well, that went better than last season," Southampton's official Twitter feed said.
Southampton are in 10th place in the standings with 29 points from 24 matches; Aston Villa in 11th place have 27 points on 22 matches played. United are in fifth place with 40 points on 24 matches.
"Personally it's nice to be amongst the goals, but more importantly it's the points on the board, and we've done that with a huge display today," Adams said. "Everyone knows we're a pressing team, that's what we do well, and when we press teams, not many teams can handle it. When everyone's at it, like they were today, we can beat anyone. It was a big performance today against a great team."
Southampton are back in action next weekend against Everton (Saturday, 19 February).
Manchester United don't have much time to rest with a mid-week matchup against Brighton (Tuesday, 15 February) before playing Leeds United next weekend (Sunday, 20 February).
Leave a comment