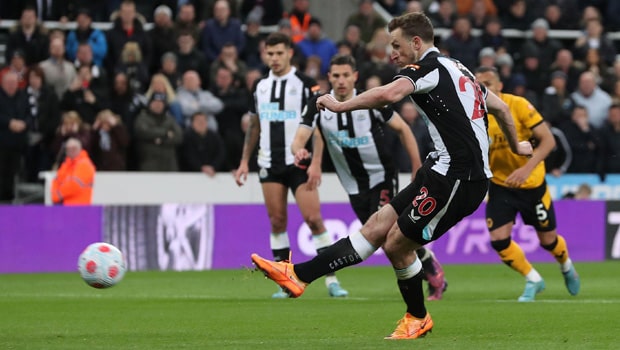 Newcastle United moved 10 points clear of the relegation zone as Chris Wood found the back of the net (72') on a second-half penalty. Wolves remained eighth in the Premier League standings.
Wood has now scored six goals in 15 games against Wolves. Wood has scored 5 goals in his last 4 Premier League appearances overall vs Wolves. Friday's goal was Wood's first for Newcastle United at St. James' Park.
"It is fantastic," Wood said after the win. "There is something about playing in front of St James' Park and we want to get them up for it.Luckily today we did. It helps when you play those teams you do well against. It is always good to score as a striker but ultimately we need points to get out of relegation battle and to build next season. It is getting closer. We want this club to go to the next level. We need to get to 40 points and then build."
Newcastle have won their last three Premier League fixtures, exactly as many as they had won in their prior 18 homes matches.
"Massive tonight. It was the kind of game we expected it to be," Newcastle coach Eddie Howe said. "Wolves make it difficult for you. We had our moments. It took a penalty to win the game but the players gave everything again. I am so pleased for Chris Wood. You could see him filling in on the left of midfield. He is a willing lad. The goal will do wonders for him. I am pleased he stepped up and took it."
Howe — just back in November — took over a side just months back that was sitting in 19th place in the standings. His mantra of making 'each day' a 'masterpiece' is spreading across the club as the club seems to improving weekly in 2022.
Wolves won the possession battle overall 59-41, but had just two shots on target. They were also called for twice as many fouls as Newcastle.
"In the second half we had clearer ideas," Wolves coach Bruno Lage said. "The first five minutes of the second half, we were more aggressive in the final third than in the first 45 minutes. I think we missed a big opportunity."
Wolves are just one win away from equaling the club's record of 16 wins in the top-flight.
"Since the first minute, we need to control the game with the ball and not be defending so much," Lage added. "We need to be more aggressive, not making fouls but being near the man. If you look at the goal, they win the ball and in two passes they're inside of our box. So it's frustrating but we need to continue to work. That's our mentality and we need to learn and improve."
Wolves are back in PL action on 42 April against Burnley. Newcastle host Leicester City next weekend, Sunday 17 April.
Leave a comment