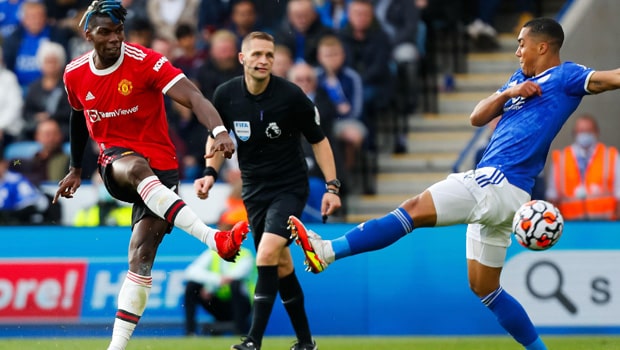 Manchester United midfielder Paul Pogba admitted that the team will need to change something if they are to turn the tables in the English Premier League. The Red Devils were beaten 4-2 by Leicester City at King Power Stadium on Saturday. The visitors were not able to bring their best to the table and they were punished by the hosts.
Pogba also admitted that they deserved to lose as they didn't play up to their potential. In fact, Manchester United came up with horrid defensive play and Leicester City were able to make the most of it. Pogba also noted that the team is conceding goals they shouldn't and feels they will need to turn the corner.
Meanwhile, Marcus Rashford, playing his maiden game of the season, was able to equalize for the United at 2-2 in the 82nd minute but the visitors went on to concede twice in the last eight minutes. Jamie Vardy scored soon after Rashford's goal while Patson Daka ensured that the hosts were getting the three points as he scored in stoppage time.
This loss ended United's 29-game unbeaten streak away from home. Pogba feels this is not the first kind of loss they encountered and added they are yet to diagnose the issue.
"To be honest, we've been having this kind of game for a long time and we haven't found the problem," Pogba said.
"We need to find what's the problem, to concede easy goals, stupid goals, when we know those games where we play on this pitch, the fans are going to push, put pressure on us and everything. We need to be more mature, I think. We need to play with more experience, arrogance in a good way. We have to take the ball and play our football.
"But now we have to find what's the key of these games that we lose. Because I think we deserved to lose today.
"We need to find something, we need to change something. I don't know if the mindset of all of us, the players, when we start… we really don't know. It's frustrating because it's something we don't understand and we have to find that very fast because if you want to compete and you want to win the title, those games you have to win, even though they are very hard and we're playing away.
"You need to fight their game, you need to find the right mentality, the right tactic to win those games. That's my thought. We have time to think about it and then all together, we have to stick together and find the problem."
United have now dropped down out of the top four teams and are placed in the fifth position. Ole Gunnar Solskjaer's men will look to bounce back stronger next week.
Leave a comment