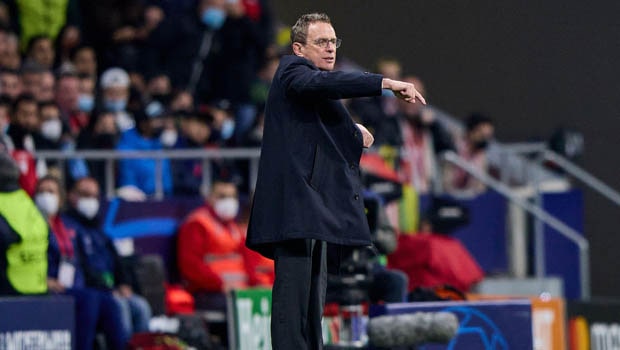 Manchester United interim head coach Ralf Rangnick was not happy with his team's first-half performance against Atletico Madrid in the Round of 16 Champions League first-leg match, which was played at the Estadio Wanda Metropolitano on Wednesday night.
The home team dominated the first half after Joao Felix scored in the seventh minute of the game. However, Manchester United failed to create any kind of opportunities and also didn't keep the possession in the opponent's half.
Rangnick admitted that his team didn't take any risks after the hosts scored the opening goal and they were on the back foot in the first half. In fact, the Red Devils could only take two shots on target despite having 63% of possession.
"We were too apprehensive with the ball [in the first half]. We didn't take any risks when we were in possession of the ball, we just played in our own half, without any deeps runs, without physicality, and it is difficult against a team like Atletico, conceding an early goal," said Rangnick in a post-match press conference.
Rangnick feels his team was able to turn the tables in the second half. The German manager decided to bring in Anthony Elanga for Marcus Rashford in the 75th minute. Elanga was able to make an impact straightway as he scored the equalizer in the 80th minute. In fact, Elanga had also scored after coming on as a substitute against Leeds United.
"I don't know if I rescued it, but after the performance in the first half, it could only get better because of how we played in the first half. In the second half we were much better, we had possession in areas that mattered, and I think another ten minutes to play we might have even won the game."
Manchester United has been in decent form in the last couple of matches and they will look to continue in a similar fashion. The Red Devils will next face Watford on Saturday at Old Trafford in the Premier League.
Leave a comment