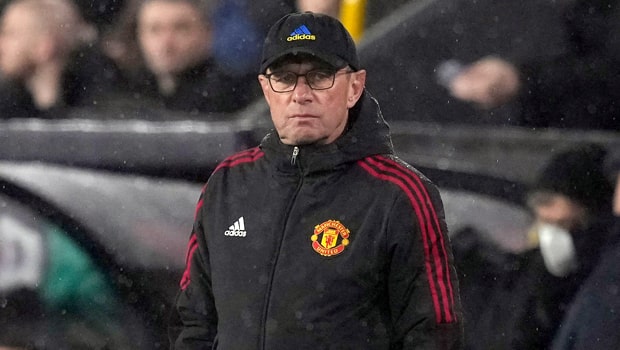 Manchester United interim head coach Ralf Rangnick was not happy with the officials as he feels two of his team's goals that were disallowed against Burnley FC at the Turf Moor on Tuesday were unfair. The Red Devils have now moved out of the top four in the Premier League standings.
Paul Pogba scored for the club after a long gap of one year in the 18th minute of the game but Jay Rodriguez scored the equalizer for the home team just after the first half. Meanwhile, Raphael Varane scored from a header but the officials disallowed the goal as Harry Maquire was offside.
Furthermore, Josh Brownhill's own goal was disallowed as Paul Pogba fouled Erik Pieters. However, the German also accepted the fact that his team was not up to the mark despite having a dominating first half against the opposition.
"We scored three goals. That was different from last Friday when we only scored one goal in the first half. Tonight we scored three goals," he said on BT Sport.
"At the end, it is a frustrating evening for us because we should have won that game easily after the first half and even the last 25 minutes we had full control and dominated the game but were not decisive enough as we were in the first half.
Rangnick feels sharing a point for such a performance was just enough in the end for his team.
"I could not blame the team for not having a killer instinct in the first half but in the last 25 minutes, we had a lot of set pieces. "In the end, it was a little bit a case of luck with Raphael Varane, the header by Cristiano, Harry Maguire, but in the end one point for a performance like this is just not enough."
Rangnick was not at all happy when Josh Brownhill's own goal was not counted.
"In particular, the second one that was disallowed, I watched it right now in the locker room. The linesman flagged for a foul but he flagged 10 seconds after that incident. This was a very soft decision, I must say.
"But again we played an excellent first half, I thought. We totally dominated the game, scored three goals but two were disallowed.
Manchester United will next face Southampton on Saturday at Old Trafford.
Leave a comment