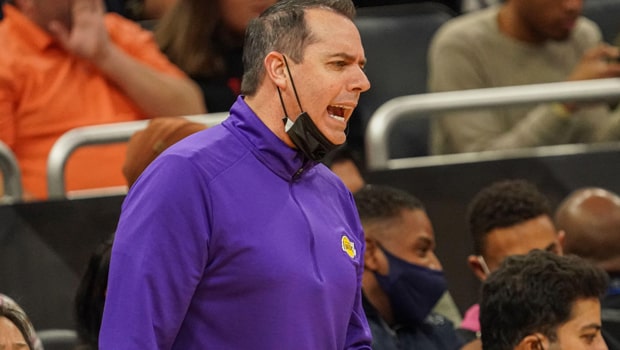 The LA Lakers had a big task on their hands as they were up against defending champions Milwaukee Bucks on Tuesday night. Bucks easily won by 131-116 as their star player Giannis Antetokounmpo scored 44 points on 17-20 shooting to get his team over the line.
On the other hand, LeBron James scored 27 points for the Lakers whereas Anthony Davis added 22 points while he added nine rebounds. However, both of their efforts went in vain as Milwaukee Bucks were too good in the end.
Lakers head coach Frank Vogel admitted that they played a terrible defensive half, which led to their downfall in the game.
"We played a terrible defensive half," Lakers coach Frank Vogel said. "Disposition, competition, the level of competitive spirit we showed for a big game was very disappointing. Two straight games we started with a terrible defensive half. We've got to get that right."
In fact, the Bucks had a comfortable 24-point lead after the first half and the Lakers were always playing catch-up. Meanwhile, after his fine performance of 44 points, the Greek Freak added that he grew in confidence after making his shots. Apart from 44 points, he also scored 14 rebounds and eight dimes.
He said after the game, "Obviously when you make shots, the game is a lot easier, looks a lot better," Antetokounmpo said. "I know I'm going to try to get my teammates involved and look for the best way to help the team, but sometimes when you start making shots, you feel better about yourself, you defend better. Today was one of those games."
Meanwhile, Khris Middleton also heaped praise on Antetokounmpo and said that the talisman made it look easy.
"He made it look easy, honestly," Middleton said. "That just shows the level of how he's playing. He was knocking down his jump shot. He's got guys going for his pump fake. Just the way he let the game come to him and stay patient, it was pretty fun to watch."
LA Lakers will next face Portland Trail Blazers on Wednesday.
Leave a comment