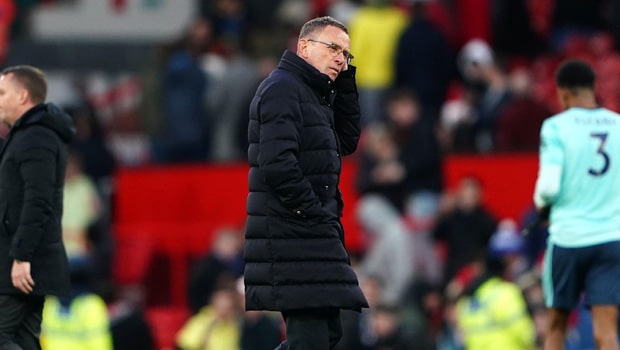 Manchester United interim manager Ralf Rangnick was disappointed after his team was held to a 1-1 draw by Leicester City at Old Trafford on Saturday. United failed to control the game and it was another dismal show from them this season. The Red Devils were not at their best in the first half.
Bruno Fernandes had the best chance in the first 45 minutes of the game but the Portuguese squandered it. Kelechi Iheanacho scored in the 63rd minute for the tourists but the home side responded well after three minutes as Fred scored from a rebound to equalize for Manchester United.
Subsequently, Jadon Sancho had a good chance but he didn't take two touches on the ball when he could have given himself more time to take his shot. Marcus Rashford also had an opportunity but Anthony Elanga was adjudged off-side.
Ralf Rangnick said as quoted by official website of the club, "We had our moments after [Fred scored], the same as they had, with the disallowed goal that was a foul on Rapha Varane but still we had to wait for the VAR to intervene. In the last 15 minutes, we had our moments, Jadon should have taken two touches in that situation at the far post and also Anthony Elanga if he'd stayed away from that ball, Marcus would have probably scored or maybe it would have been a penalty. We had our moments but we didn't score, we were not in a situation like West Ham and Tottenham where we scored a late goal. There was the header from Harry after the corner. I think we could see that the boys were trying to win that game but in the end we have to accept how hard it is to accept that this draw was a fair result."
Meanwhile, Manchester United's aim of finishing among the top four teams also took a hit as they lost out on two important points. Rangnick added that they need to win the upcoming matches to stay in contention for the top-four finish.
The German added, "As long as it is possible mathematically, it is possible. But no matter how likely it might be, it's our job and our duty, for ourselves and our supporters, for everybody, to do our very best to finish off the season on the best possible note. That means now preparing for an away game at Everton, to try to win that."
Manchester United will face Everton on 9th April at Goodison Park.
Leave a comment