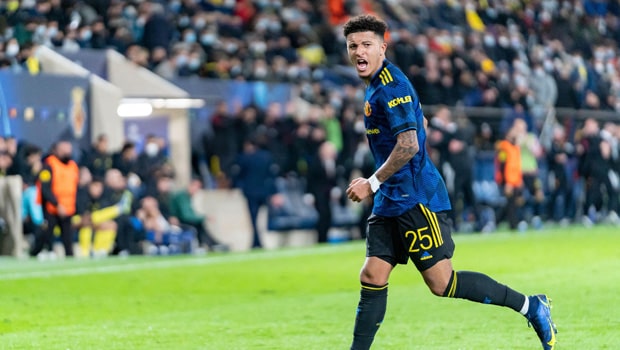 Former Manchester United great Roy Keane heaped praise on Jadon Sancho for coming up with fine performances in the last week and feels that these renditions will be a huge confidence booster for the striker. Sancho who has taken his time to hit the ground running at Manchester United was finally able to come to the party.
Sancho scored his maiden goal for Manchester United earlier in the previous week against Villarreal in Champions League fixture and played a key role in the team's 2-0 win in Spain. Subsequently, Sancho scored his first Premier League goal for the Red Devils against table-toppers Chelsea on Sunday at Stamford Bridge. Sancho was able to grab his chance after Chelsea skipper Jorginho made a blunder at the halfway line and United was able to score against the run-of-play.
Keane said while talking to Sky Sports, "I think he would've been annoyed at Rashford because he has time to think and maybe Rashford probably interfered with his decision-making but luckily enough the 'keeper was in two minds he gives him a little shimmy right at the end. It's good for Sancho, he's had a good week and for a young player coming to United this would be a huge week for him and a confidence boost for him."
On the other hand, Manchester United interim boss Michael Carrick made a bold decision to bench Cristiano Ronaldo in a big clash against Chelsea. Ronaldo had never scored against the Blues in the history of the Premier League but Keane was not impressed by Carrick's decision to leave Ronaldo on the sidelines. Sancho was substituted for Ronaldo after 64 minutes but the Portuguese striker failed to grab his chance.
"Ronaldo has not come back to Manchester United to sit on the bench. He is a world-class player! His stats since he came back to the club are ok – he has got some goals and some assists. This idea that he is going to start closing people down? He's not. Sometimes you have to work around a superstar. I've played with players who don't do the bit you hope – the Cantonas of this world – but you forgive them because they score the winning goals in tight matches."
Meanwhile, Manchester United has officially confirmed the signing of Ralf Rangnick as their interim manager for the rest of the season. The Red Devils will next face Arsenal on Thursday evening.
Leave a comment