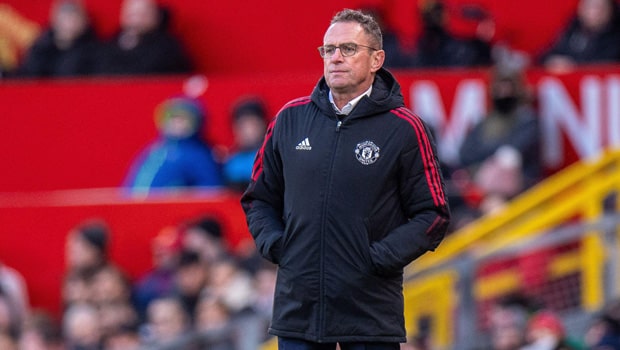 Manchester United secured a 1-0 win over Crystal Palace thanks to a second-half goal from Fred as Ralf Rangnick won his first match in charge of the club.
United managed to win possession in the final third 12 times vs Palace, the most they've done so in a Premier League match since Sir Alex Ferguson retired. Rangnick's schematics and strategy are already making an impact.
"The first 30 minutes, I was really impressed: high-speed, high-intensity, high-tempo," Rangnick said. "The only thing missing at that point in the game was 1-0. It's all about proactively playing and defending, even after the 1-0, trying to put them under pressure and this is what I wanted to see from them today."
United immediately went away from the 4-2-3-1 formation, and started the match in a 4-2-2-2 that had Marcus Rashford and Cristiano Ronaldo up front.
"We wanted to play with two strikers, especially in the central position," Rangnick explained after the win. "By the way, Cristiano Ronaldo's work off the ball, chapeau. After only one training session, and it was not really a full training session. We had 45 minutes on the pitch, rainy, pouring, windy and my assistant coaches told me that even for Manchester it was extreme. With one training session and quite a few conversations, what they did defensively, we had full control of the game."
Even just after 30 minutes vs. Crystal Palace, United already had more shots [10] than they did against Watford [9] their previous time out. United dominated possession 61-39, and had nine corners compared to six for Palace. Plenty of shots off target, but the key factor was the aggressiveness under the new manager.
Since parting ways with Ole Gunnar Solskjaer, United are now unbeaten in four matches.
Ronaldo did play the full match, which could be a factor given United's upcoming Champions League matchup vs Young Boys.
This marked United's first clean sheet at Old Trafford this season. The three points puts them just three points behind fourth-place West Ham.
"Always good to score," Fred said, with a big smile as he scored with his right foot on Sunday. "But today we win. Good performance, we play very well. Clean sheet. First game of the new coach is so important for us."
"I had to ask my assistant coach if that was Fred's right foot, I thought he could only shoot with his left," Rangnick said. "I'm happy for him."
Palace, now sitting in the 12th spot of the PL table, will look to get back on track next Sunday against Everton.
United have a busy week ahead with the mid-week Champions league fixture (8 December) followed by a Premier League fixture vs Norwich City (11 December).
Leave a comment