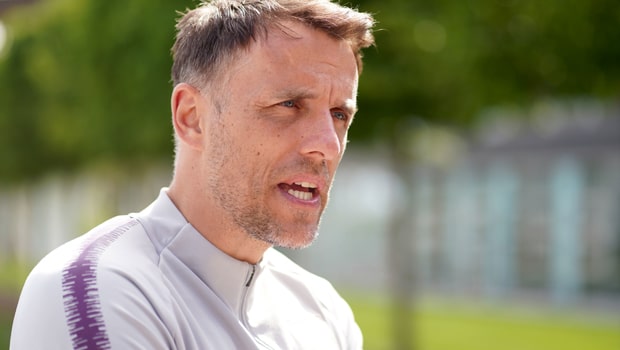 Phil Neville feels the way Manchester United has been run for the past few years means rivals Manchester City are streets ahead of the Old Trafford club.
City have just completed a domestic treble and become the first team in a decade to defend the Premier League title while the Red Devils missed out on Champions League qualification by finishing sixth.
Jose Mourinho was sacked as manager during the campaign, and, after successor Ole Gunnar Solskjaer's initial success, things petered out over the final few months.
Neville was part of the Sir Alex Ferguson era when United dominated English football but the veteran Scot's retirement was the catalyst for the club to be dragged back to the rest.
David Moyes and Louis van Gaal failed to right the ship and the England women's manager fears for the future.
"Over the last five years, you've seen a team that's gone away from the vision and philosophy of what the club is all about," he told The Offside Rule Exclusives.
"When you look at City, Liverpool and Tottenham, their club's foundations are really strong – and you'd say United's are from a financial point of view. But stability on the field?"
City are 1.70 to retain their Premier League title, with Liverpool 3.60 and Spurs 15.00.
United can be backed at 19.00 to turn things around but Neville believes it will take time before the Premier League trophy is housed at the Theatre of Dreams once again.
"You hope with Ole, Mick Phelan, Michael Carrick and Nicky Butt that United will start getting back to the foundations," he added.
"I think it will take a long time – it's not a quick fix – but hopefully with those guys in charge and the financial muscle United have still got, they can get back challenging soon."
Leave a comment