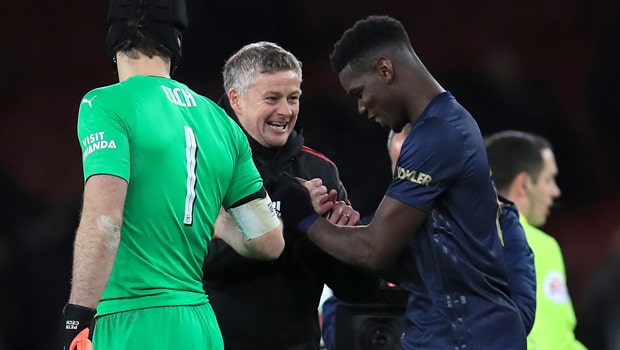 Manchester United midfielder Paul Pogba has piled the praise on interim coach Ole Gunnar Solskjaer after changing the mood within the dressing room since his arrival.
The former United striker took charge of the Red Devils in December after been given a contract until the end of the season. He has made an immediate impact, winning his first eight matches in charge as well as helping the team go on a 11-match unbeaten run.
That finally came to an end last Tuesday when Paris Saint-Germain proved too much in the first leg of the first knockout round of the UEFA Champions League.
Solskjaer is hoping to get the job on a permanent basis and Pogba insists he has 'united' the squad and he believes it has a similar feel to the Class of '92.
"I try to give my experience to the younger ones because I had the chance to play in the World Cup, I've played in a Champions League final and a Europa League final," he told The Sun.
"So I try to pass that on to the boys. It is the culture of this club, the generation of (David) Beckham, (Paul) Scholes, (Nicky) Butt, Gary Neville.
"When you come from the Academy you want to play for the first team and do great things. Ole has helped me a lot, just like he's helped all the players. He just brings this happiness, this joy, to us all.
"As an ex-United player he knows the culture, he knows everything about the club and he knows how to talk to the players as well. So it has really been a big help for me."
United are next in action on Monday night against Chelsea in the FA Cup and they are on offer at 3.50 to win at Stamford Bridge. The Blues remain 2.05 favourites, while the draw is 3.60.
Leave a comment