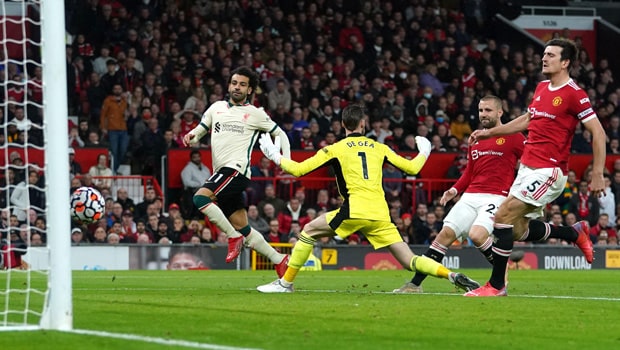 Liverpool's Mo Salah put on quite a show at Old Trafford as his hat-trick led the side to a 5-0 win over Manchester United.
Naby Keita and Diogo Jota found the back of the net first, but Salah kept his foot on the gas as the Reds raced out to a 5-0 lead by the 50th minute.
"It's the darkest day I've had leading these players," Manchester United's Ole Gunnar Solskjaer said after the match. "We weren't good enough. Can't give a team like Liverpool those chances, and unfortunately we did. The whole performance wasn't good enough."
Salah became the first visiting player to score a hat trick at Old Trafford since Dennis Bailey (1991-1992).
"It's great to win 5-0 here," Salah said. "We just tried to play our football and get the ball between the lines, and we did that. As long as the team keep winning I am always happy. It's only one game – it's really big to win 5-0 at Old Trafford but ultimately it's only three points. We want to win the Premier League."
Following the result, Liverpool are back up to second place in the table, one point behind leaders Chelsea.
"What can I say? Did I expect that? No," Liverpool's Jurgen Klopp said candidly. "What we did in the last third was insane."
Liverpool are only the second team in English top-flight history to win consecutive away games by a margin of 5+ goals without conceding themselves.
"Three points against a real opponent, but you have to understand these games right," Klopp added. "I analyze the games, we can play better football and have to concentrate more, but 5-0, I couldn't be happier, it is exceptional. Absolutely outstanding."
This loss marks United's worst-ever defeat at home to Liverpool, while also being the first time they have not scored while giving up 5+ at home since February 1955 (5-0 v Man City).
"You can look back at last season when we lost 6-1 against Spurs," Solskjaer said. "This is worse, miles worse. We have to get over this as quickly as we can. We've come too far as a group to give up now. The supporters were fantastic – it could have gone one way or the other but they supported the team until the end. We know we're at rock bottom, we can't feel any worse than this."
Manchester United are back in Premier League action next weekend, 30 October vs Tottenham. Liverpool have an EFL Cup fixture mid-week vs Preston before a PL matchup vs Brighton next weekend.
Leave a comment