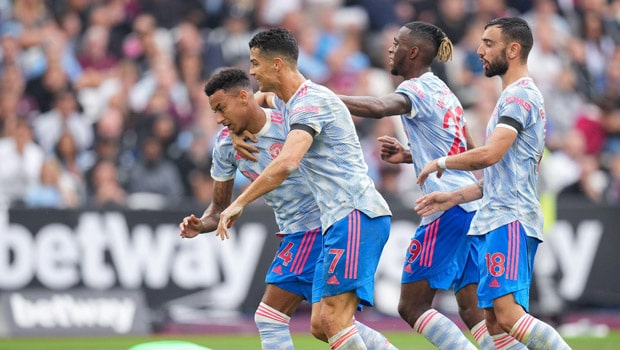 Despite a late, stoppage-time penalty opportunity for West Ham, the visitors in Manchester United managed to hold on to a 2-1 win vs the Hammers at the London Stadium. United saw both Cristiano Ronaldo and Jesse Lingard net a goal in the win.
Mark Noble missed a penalty in stoppage time that could have tied the match at two goals apiece.
"Not at all, because Mark Noble is one of the best penalty takers we've got," West Ham manager David Moyes said. "We had time to think about it, time to make the choice. I'd have been more disappointed with myself if I hadn't taken the decision. Because of his record I felt he'd be most suited to take it."
Ronaldo now has four goals since returning to United.
West Ham's London Stadium is the stadium No. 66 that Ronaldo has scored at in matches played in Europe's big five leagues.
"I felt we deserved the win, we played some very good football and created big chances," United manager Ole Gunnar Solskjær said.
West Ham clearly had some tired legs after having to play this match within 72 hours of having faced Dinamo Zagreb in Croatia for international play.
"We've tried to go toe to toe with Man United today as much as we could and made a decent account of ourselves," Moyes said. "They were one ill-fated roll of the dice from being inseparable."
United dominated possession 61-39, with 10 shots on target compared to just three for West Ham. United also had 11 corners, with West Ham having just 2.
West Ham fans were heard singing, "Jesse Lingard, he wants to come home" before he scored the late winner.
Lingard came on as a second-half substitute in the 73rd minute, and scored just 15 minutes later as he found the top corner.
"That's football," Lingard said on social media after the match. "Thank you for the warm reception today."
Lingard suited up for West Ham last season.
Lingard has now scored in successive Premier League appearances for United for the first time since December 2018.
Solskjaer did mention that he expects Lingard to start Wednesday vs West Ham in League Cup action at Old Trafford.
United's David de Gea saved his first penalty in the Premier League since October 2014. He had been on the wrong end of 21 straight PL penalties in that timeframe.
United have a mid-week match vs the same side as previously mentioned before they face Aston Villa next weekend. West Ham face Leeds United next weekend in PL action.
Leave a comment