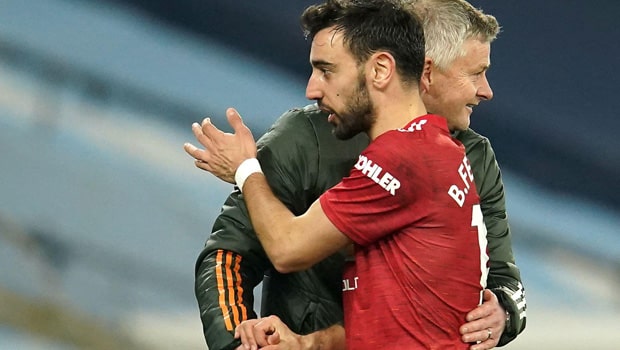 Manchester United got back to winning ways after three consecutive draws to end Manchester City's 21-match winning run on Sunday evening at the Etihad Stadium in the Premier League.
The Red Devils were also on a ten-match unbeaten run although their last three games had ended 0-0 against Real Sociedad in the Europa League, Chelsea, and Crystal Palace in the Premier League.
Ole Gunnar Solskjaer's side is also unbeaten in 22 away matches played in the Premier League and the recent one at the Etihad gave the needed result.
Manchester United took the lead early in the game through a penalty converted by Bruno Fernandes in the 2nd minute after Gabriel Jesus committed a foul at the wrong end.
Luke Shaw could have doubled the advantage for the visitors two minutes later but his effort was saved by Ederson. Raheem Sterling and Oleksandr Zinchenko had the chance to draw City level but their efforts yielded no result.
The Red Devils doubled the advantage five minutes into the second half through Luke Shaw and from then on Manchester City failed to breach Manchester United's defense.
The result reduced City's lead at the top of the table to 11 points with ten more matches left in the season and the manager of the City side Pep Guardiola has stated how important the ten games are.
"Ten games left, now we arrive at the important part of the season. The last 10 games are important and we start next Wednesday. We will try to win as many games as possible to be Champions. Against West Ham we played much, much worse than today. Against West Ham, we didn't deserve to win and maybe today we didn't deserve to lose. We were not good in front of goal – our strikers were not brilliant today – but it happens." Guardiola said.
Manchester City faces Southampton and Fulham in the Premier League before the second leg of their UEFA Champions League Round of 16 ties with Borussia Monchengladbach.
Written by: Daniel Ademiju Idowu
Leave a comment