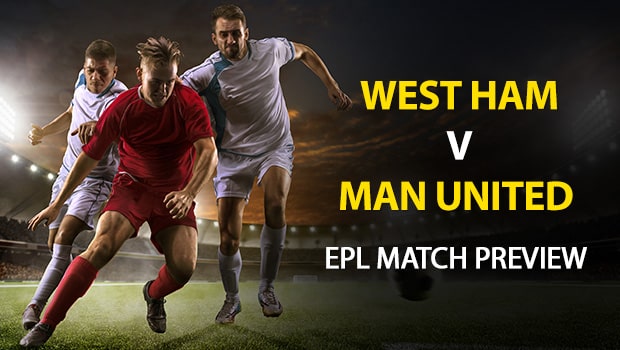 Manchester United vs West Ham United
West Ham United will look to keep using its defense to stay competitive this Sunday as they get set for a matchup with Manchester United at London Stadium.
Let's take a closer look at where the value is at in this matchup.
Team to Win (Regular Time)
• West Ham United: 3.45
• Draw: 3.79
• Manchester United: 2.10
Spread
• West Ham United +0.5: 1.79
• Manchester United -0.5: 2.16
Total
• Over 2.5: 1.68
• Under 2.5: 2.28
Draw: There's a 26 percent this match ends in a draw. That happens in close to 29 percent of simulations, suggesting some added value on the pick.
The projected score is 1.40 – 1.29, in favor of West Ham. That's right, simulation data has West Ham as slight favorites.
Clean Sheets: West Ham are tied for No. 1 in the league with two clean sheets — equal to that of Man United.
Tired Legs: Man United will have some other duties this week with other fixtures (Europa League vs Astana), and the tired legs may have an impact Sunday.
Head to Head: These two sides last matched up in Premier League action back in April of 2019 when Man United won, 2-1.
Marcus Rashford has a 37-to-38 percent chance to score for Manchester United. Rashford averages 3.31 shots overall per sim, 1.33 shots on goal per and 0.47 goals per sim.
West Ham's Sebastien Haller has a 42-to-43 percent chance to score. He averages 1.73 shots overall per sim, 0.88 shots on goal per and 0.54 goals per sim.
West Ham United +0.5
There's a 56 percent chance West Ham either finish in a draw, or win this matchup. That happens in 67 percent of simulations.
Make sure to check all other MLB, NFL, NCAA, NHL, NBA and soccer game predictions from AccuScore.

Leave a comment