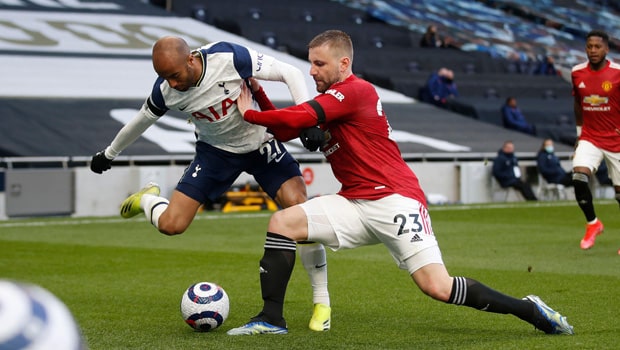 In what was potentially the most exciting match of the weekend, Manchester United secured a 3-1 win behind second-half goals from Frederico Fred (57'), Edinson Cavani (79') and Mason Greenwood (90+6'). For the ninth time this season, and the eighth away from home, United came from behind in a Premier League match to win.
"It's a brilliant win," United's Scott McTominay said. "We were frustrated at half-time but the message was clear from the manager: keep calm. That's what he kept saying to the players, that there's no need to panic. We've been here before, we know we have good characters in the team and good players who want to take the ball against a really difficult team. We have to start getting better in the first 30 minutes of games. By our standards that wasn't good enough, but there were nothing but positives in the first half."
Cavani's header now gives him five Premier League goals this season vs header; only Dominic Calvert-Lewin (6) has more.
Tottenham, in what is becoming an increasingly frustrating trend for fans, struggled to get any attacking momentum.
What's alarming is how consistently the Spurs take the lead, only to give it up for a loss. They have dropped 18 points from winning positions in the Premier League this season, according to @OptaJoe on Twitter, second only Brighton.
Sunday's loss makes it 10 league defeats for Jose Mourinho this season. That's his worst-ever campaign.
"Credit to the opponent," Tottenham manager Jose Mourinho said. "They have good players and lots of quality. They have incredible physicality in midfield."
There were, however, concerns over the officiating.
"I don't know anything anymore, I don't understand anything anymore," Mourinho added, when asked about the decisions being made by VAR.
WRITE
"My opinion we did not deserve this result at all," Mourinho said. The players gave it their all and worked very hard."
United are back in league action 18 April vs Burnley. Tottenham will face Everton on 16 April
Leave a comment