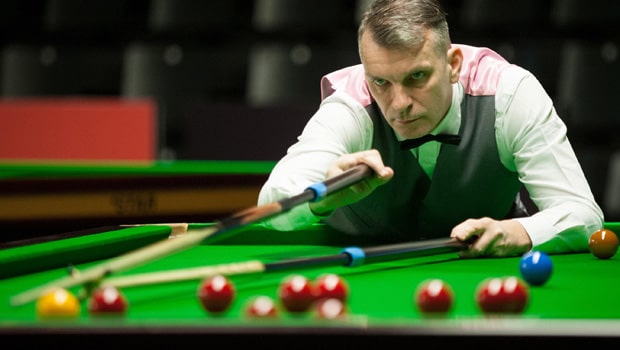 Mark Davis staged a remarkable comeback against Jamie Clark to qualify for the 2021 World Championship.
A total of eight players booked their place at The Crucible for the 2021 World Championship. Mark Davis was resilient and never gave up in his Judgement Day game. The 48-year-old Englishman put in the best performance of the day, as he staged an incredible comeback from 7-2 down to defeat Jamie Clarke 10-8.
Mark 'The Battler from Hastings' David, who is currently ranked 12, didn't start the game on the front foot. 26-year-old Welshman, Jamie Clarke took advantage of that can quickly climbed to a 7-2 lead. However, Mark Davis soon gained confidence and began covering up the deficit. The 2018 English Open runner-up ended the game with a 10-8 victory, not only qualifying for the World Championship but staging the best comeback in his career.
He said after the game: "I don't remember coming back from that sort of deficit before in all my career, to be honest. Jamie really is a tough player. I've been playing well for a long time, but for whatever reason, it didn't happen in the first session. It's just crazy."
In other games, Matthew Selt was in phenomenal form as he secured his Crucible spot in a convincing manner. The Indian Open champion booked his spot in Sheffield for the first time since 2015, with a resounding 10-3 victory over Scott Donaldson. He also recorded high breaks of 110, 106, and 135.
Norwegian Kurt Maflin sealed his place as the first qualifier into the 2021 World Championship draw as he beat Robert Milkins 10-4.
There was also an interesting Chinese match-up that saw Lyu Haotian eliminate 18-year-old fellow countryman Chang Bingyu 10-6 to reach the World Championship for just the second time.
Tian Pengfei, Liam Highfield, Liang Wenbo, and Jamie Jones all secured their qualifications.
Leave a comment