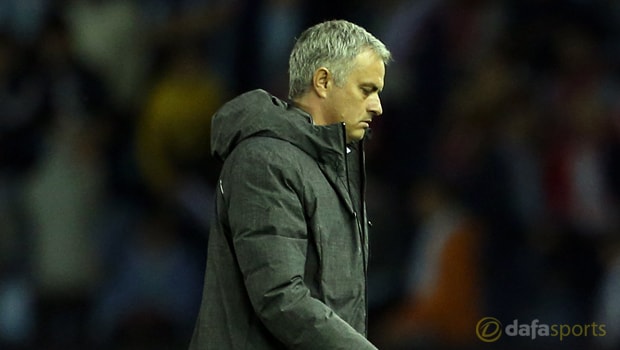 Jose Mourinho feels it is 'not possible' for him to field a full-strength team in Sunday's clash with Arsenal at the Emirates Stadium.
The Gunners showdown is sandwiched between Man United's Europa League semi-final games against Celta Vigo.
A 1-0 win in Spain on Thursday leaves Mourinho in a strong position for the return game in Manchester this week, and he says that is now his main priority.
A home draw with Swansea last weekend has, insists the Portuguese, ended hopes of a top-four finish and so winning the Europa League is the sole avenue that will lead United into the Champions League for next season.
"We have to be human with the players, we have to be sensible and common sense in relation to our situation in the Premier League," said Mourinho.
"I think the last match against Swansea was our last chance to fight for top four, so I am going to rest players, sure."
Despite that admission, Mourinho warns that whatever team he selects to face Arsene Wenger's men will 'fight' for a positive result.
The likes of Marcus Rashford, Eric Bailly, Daley Blind and Paul Pogba are expected to be rested at the Emirates, with Wayne Rooney, Michael Carrick, Juan Mata, Chris Smalling and Phil Jones jostling to start.
Celta Vigo have been resting players in their domestic games and Mourinho is determined to do the same, though he isn't willing to give Arsenal an easy time.
"We are going to try. We are going to try," Mourinho said. "We are not going to Arsenal to say 'beat us,' or 'beat us 5 or 6-0,' we are going there to fight for a result, but it's impossible [to field a full-strength team].
I cannot do it in another way. "If Celta was playing with their best team, if Celta was fighting for important things in La Liga, we would go in the same circumstances, but I cannot now play with the same team that played in Vigo, and then repeat again next Thursday."
Arsenal are 1.95 to beat Manchester United, who are 4.00 and the draw is 3.60 at the Emirates.
Leave a comment