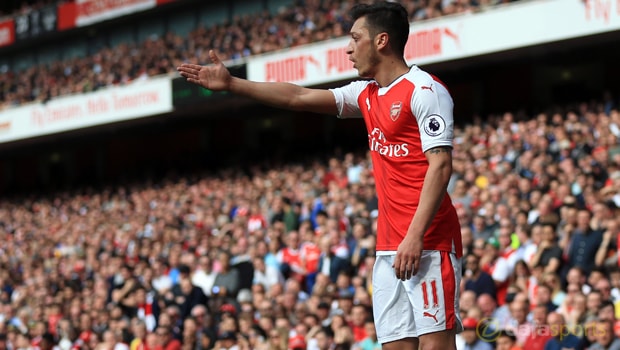 Arsene Wenger has admitted that he has his doubts over Mesut Ozil's ability to handle the criticism that comes his way.
The German playmaker was once more in the spotlight this week in the wake of another lacklustre performance in Arsenal's defeat by Tottenham at White Hart Lane.
It raised the issue of Ozil's ability to impact positively on big games for the Gunners and his manager admits that the criticism may not sit easily with the World Cup winner.
According to Wenger, 'big players' need to be ready to handle criticism when things are not going to plan, but he doesn't feel the former Real Madrid man deserved to be singled out after the North London derby defeat.
"Overall the big players get more criticism than the others. I believe last Sunday to just criticise Mesut Ozil's performance does not reflect exactly what happened on the pitch," Wenger said.
There has been intense speculation on Ozil's future at Arsenal, just as there has been on that of Wenger.
The Frenchman revealed that he is far from certain the 28-year-old is blessed with the mentality of a big-game player.
"His style is more fluid, less aggressive, but it doesn't mean he wants it less than others. Big players have to carry the responsibility of the team. People look at it like that," added Wenger.
"I don't know, I'm not sure (if he can cope with that responsibility). I think he embraces the challenge to play big games.
Does he embrace the challenge to be criticised? I'm not sure. Does he like to be criticised? I'm not sure."
The Arsenal boss added that Ozil can only answer his critics by delivering on the field against Manchester United on Sunday.
Arsenal are 1.95 to win against the Red Devils, who are 4.00 with the draw 3.60.
Leave a comment