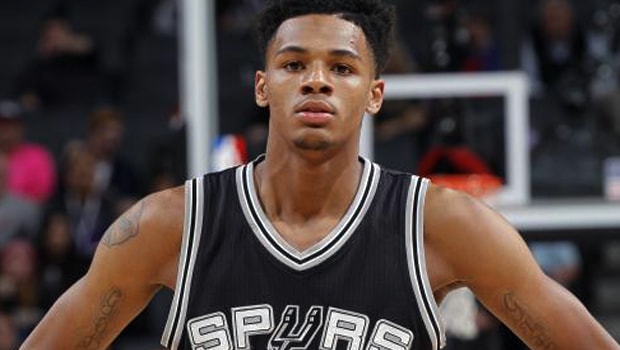 Having sampled his first taste of the NBA Playoffs in San Antonio's vital Western Conference semi-final Game 3 win over the Houston Rockets, Dejounte Murray is eager to build on it.
The 20-year-old rookie got the call from coach Gregg Popovich at point guard after it was confirmed that Tony Parker will miss the rest of the season after surgery to repair a torn quad muscle.
Losing Parker is a significant blow for the Spurs, but they managed to gain a potentially crucial 103-92 success against the Rockets nonetheless.
Murray enjoyed 14 minutes, two points, two rebounds, two turnovers and a steal and he admitted afterwards that experiencing the intensity of the playoffs is on a different level to what he came through in the regular season in every conceivable way.
"That was another ball game out there," Murray said. "That's beyond anything you can really expect or prepare yourself for. "That game was a different atmosphere.
I saw it in my team's eyes and in the coach's eyes, too. "When Coach tells us that every possession counts in the playoffs, it really does.
I've seen it live now." The Spurs are in Houston for Game 4 and Murray has already been confirmed as a starter by Popovich.
The coach says there is no pressure on the youngster to do anything bar his best and Murray already feels like he has learned a great deal about the playoffs. "When the game started [on Friday] I wasn't as comfortable.
I've never been a part of a playoff game. Being out there is different than being on the bench. But as the time went on I got more and more comfortable and when the time comes for Game 4 I'll be ready to go," he added.
The Spurs are 3.00 to win Game 4 in Houston, where the Rockets are 1.40 to tie the series at 2-2.
Leave a comment