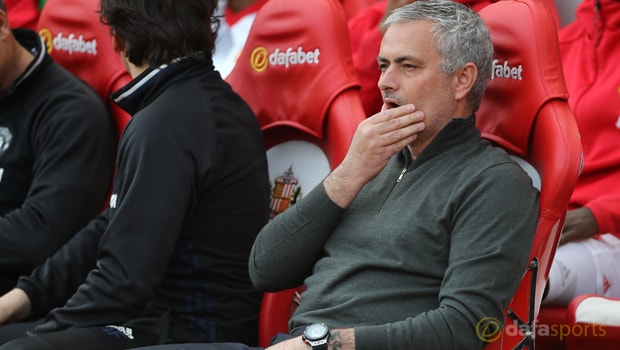 Jose Mourinho had admitted his former club Chelsea have been a 'much better team' than his current Manchester United side this season.
The Portuguese will welcome title-chasing Chelsea to Old Trafford on Sunday as the Red Devils, unbeaten in 21 league games, seek to continue their pursuit of a top-four finish.
Mourinho however has insisted that his side is currently 'far' from being the best in England and he had no issue admitting that Chelsea are a long way off in the distance at this stage.
Asked how close Manchester United were to being the best team in the Premier League, he replied: "Far, because the best team, in the Premier League, is the team with most points."
Ahead of their showdown at Old Trafford, Mourinho was fulsome in his praise of Antonio Conte's would-be champions.
"The best team at the end of the season is the one who is champions and we are far from it," he told Sky Sports.
"I don't know how many points we are from Chelsea but it is obvious that this season they are a much better team than us."
While they haven't been able to sustain a title challenge in spite of their 21-game unbeaten run, Mourinho reminded his critics that he has pocketed silverware in his first season in Manchester via the Capital One Cup final win against Southampton.
He wants to continue fighting for a top-four berth and has designs on adding another trophy before the campaign ends.
"You can say that I won a trophy in the first season but you can forget it too soon – I don't know what is a good season for you and for me," said the United boss.
"For me a good season is to be ready for every match and fight for every match for the best result and to defend Manchester United's prestige.
"We are not fighting for the title, we are just fighting to finish top four.
The important thing for this club is to fight for titles and the only title we can win now is the Europa League."
Man United are 2.75 to beat Chelsea and 2.15 to win the Europa League this season.
Leave a comment