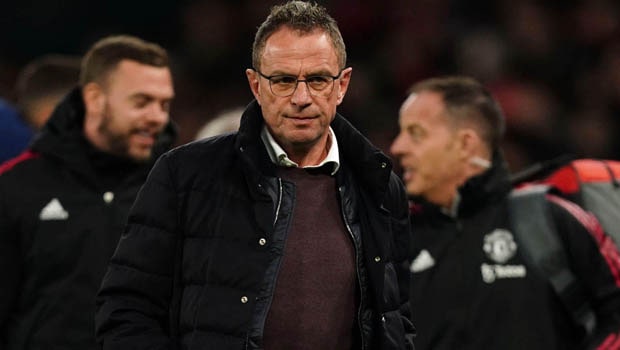 Ralf Rangnick had taken over from Ole Gunnar Solskjaer as Manchester United interim manager last year after the Norwegian coach could not deliver the goods. Under the tutelage of Ralf Rangnick, Manchester United has seen up and down performances.
The team's defender Diogo Dalot feels it is demanding to play under Ralf Rangnick as he pushes the play to give their best on the pitch. The Portuguese player is also getting more game time under the German manager.
Dalot feels the last couple of months have helped him to get going again as he wasn't playing a lot earlier.
"Ralf talks a lot about anticipation and being proactive, and that's one of the things that I've been trying to work on the most because sometimes being at the right place at the right time can stop you making mistakes. We have a demanding type of game, a demanding style of play; you want to press really high, but you also want to be careful with balance at the back."
"Then when you have the ball, you have to play forward, you have to be intense, you have to help the team in the last third as a full-back. However, you also have to be ready to defend as well. It's demanding, but we're at a club where everything is demanding. Everything is the highest level, highly competitive."
On the other hand, Manchester United will host Atletico Madrid in the second leg of the Round of 16 in the UEFA Champions League. The first leg had ended in a 1-1 draw and the Red Devils will look to take their home advantage. Dalot added that they are expecting a tough match from the visitors.
The full-back added, "When I think of Atletico, obviously I don't know [them] from the inside, but what I can see from the outside is their values, the way they express themselves, their desire. We have a word in Portuguese to describe this desire to win every single ball, hunting down everyone, defending… being there for 90 minutes, fighting for each other and trying to win every single ball as if it was the last."
"We need to be ready for everything, because they're a fantastic team, not only in La Liga, but also in the Champions League. They've been having a fantastic season, and they've shown what they can do over the last couple of years. I'm sure it's going to be a very good game to watch, and hopefully, we can go through."
Manchester United will next face Atletico Madrid on Tuesday night.
Leave a comment