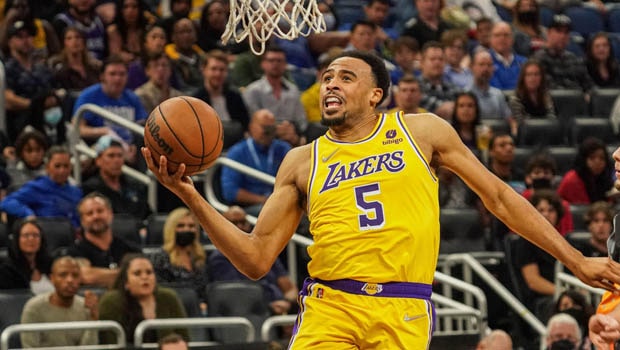 LA Lakers' woes seem to not end at all in the ongoing season. The Lakers suffered their 39th loss of the season after Toronto Raptors bested them by 114-103 on Monday night at the Crypto.com arena. Raptors outclassed the Lakers in the first quarter as they scored 33 points whereas the Lakers could only manage 12 points.
Scottie Barnes scored 21 points for the Raptors and 15 of his points came in the opening 12 minutes. LeBron James was once again the lone warrior for his team as he scored 30 points but he could not receive the support of his teammates.
Lakers guard Talen Horton-Tucker feels the team is putting themselves in a hole in every match and they need to hit the ground running to compete in the upcoming matches.
"It's almost like every game we put ourselves in a hole. We just have to kind of play consistent from the start and get on top of teams early," said Horton-Tucker, who finished with 20 points.
"Especially kind of early on, you get an open shot that everyone pretty much expects you to make it and you don't make it, it's kind of frustrating," Lakers guard Talen Horton-Tucker said.
On the other hand, Toronto Raptors head coach Nick Nurse was delighted after his team took a 21-point lead at the end of the first quarter.
"It was a great, great start," Toronto coach Nick Nurse said. "And then it was kind of weird from there, but it was good to get off to a good start like that."
Barnes, on the other side, added that he was trying to get to his spots for the easy baskets and wanted to be aggressive.
​​"I really just try to run, get those easy baskets," Barnes said. "I just came out there and was being aggressive, really just trying to get to my spots."
Lakers have now lost four of their last five games and they currently have a 29-39 record. LA Lakers will next lock horns against Minnesota Timberwolves on Wednesday night.
Leave a comment