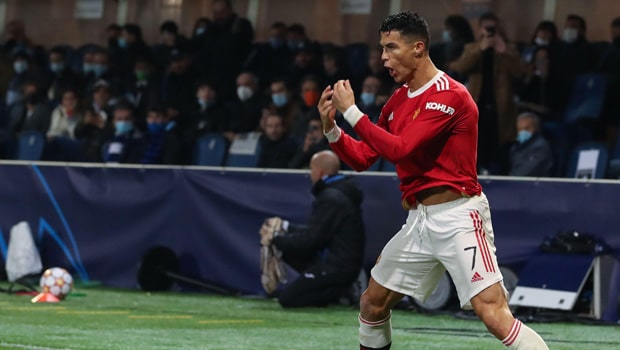 Everton forward Dominic Calvert-Lewin has heaped praise on Cristiano Ronaldo and stated that the Manchester United striker is the best player in the world. Dominic revealed that he always studied and looked at Ronaldo to improve his game.
Ronaldo is considered one of the best players in the world for his incredible goal-scoring abilities. The talisman scored through a volley against Tottenham Hotspur on Saturday and it was a much-needed goal for United after a 5-0 drubbing against Liverpool. Furthermore, Ronaldo also provided an assist to Edinson Cavani against Tottenham Hotspur.
Ronaldo is known to get into great positions to score his goals and has all the experience under his belt. Dominic added that he likes such players who can score with one touch.
Dominic Calvert-Lewin said while talking to Sky Sports, "I think with the goal that Ronaldo scored [against Tottenham on Saturday], it's a one-vs-one battle with the defender. It's fantastic technique but he's won the battle as soon as he's got on the wrong side of Ben Davies."
"He's the best player in the world and it's due to his work rate and his willingness to keep scoring goals. As a center-forward, people tend not to get excited about the one-touch finishes and the ones inside the box. For me, as a center-forward, I love to see it. It's an art and a craft, and he gets himself into positions which can't be considered a coincidence."
"I've studied him and he is someone I've always looked at. I ask myself how he is getting into these positions and it always starts ten seconds before you actually score the goal."
Ronaldo has done a fine job for Manchester United since he has joined the club and continues to surprise one and all with his stunning performances. The linchpin is known to give his best on the pitch and he is proving his mettle even at 36 years of age.
United won against Tottenham Hotspur by 3-0 and this was a big win for the Red Devils. Ole Gunnar Solskjaer's men will next face Atalanta in Champions League fixture.
Leave a comment