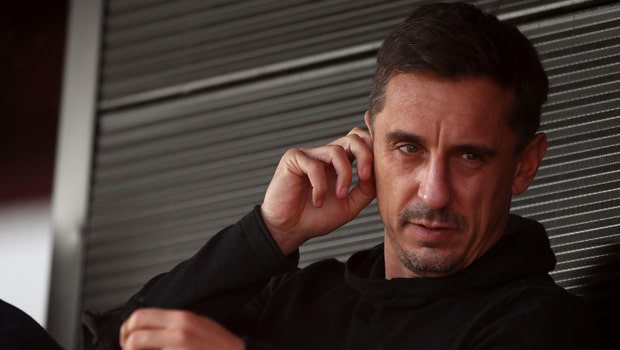 Manchester United boss Ole Gunnar Solskjaer has been put under scrutiny after the club faced an ignominious defeat of 5-0 at the hands of Liverpool at Old Trafford on Sunday. A lot of Football boffins feels that Ole Gunnar Solskjaer should be sacked after such a drubbing.
Solskjaer also admitted that it was one of the darkest days of his coaching career after his team were humiliated by the Reds. Subsequently, reports have emerged that former Chelsea and Inter Milan manager Antonio Conte could take over the baton at Manchester United from Solskjaer.
However, Manchester United's former right-back and currently Sky Sports expert Gary Neville believes Antonio Conte is not fit for United and feels the management will stick with Ole Gunnar Solskjaer till the end of the ongoing season. Neville believes Solskjaer will need to take the Red Devils to glory to shut down the noise regarding his place.
Speaking on Sky Sports (via the Mirror), the 46-year-old said: "They won't bring a hitman in. They will stick with Ole and he has to win something this season. Any other club he'd be in trouble tonight. Jose (Mourinho) was the best manager in the world and couldn't do it (at Manchester United). I wouldn't bring (Antonio) Conte in to United. He's not a fit for United. I might be wrong but I don't think that he is. I think it would be wrong to sack Ole today."
"I think the club will hold their nerve and I don't think they've planned for another manager this season and they'll sit with Ole until the end of the season. There will be a massive outcry from fans and media from everybody that he should be sacked and I can understand why after that game. It takes some recovery."
"I'd like to hear from the board to communicate with the fans to say if they are going to back the manager over the next 6 months."
There is no doubt that Ole Gunnar Solskjaer hasn't been able to get the best of his players and he will need to turn the tables quickly. Manchester United will next face Tottenham Hotspur on Saturday.
Leave a comment