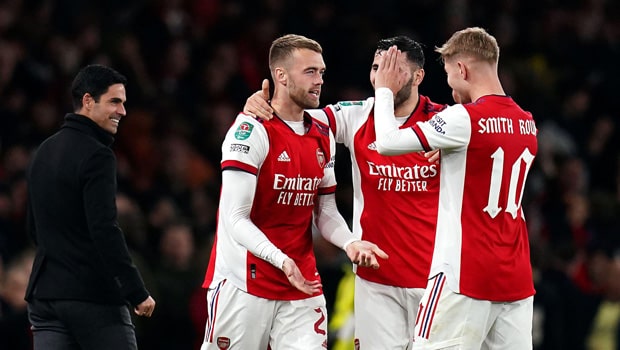 Arsenal finally seemed to find a solution to the lack of chemistry fans have seen so far this season as they took down Aston Villa, 3-1, in what was one of the more memorable performances of late. Mikel Arteta's side finally had a display at the Emirates critics can applaud, especially given short turnaround from Monday's fixture.
The win put Arsenal into the top half of the Premier League standings for now, thanks to goals from Thomas Partey, Pierre-Emerick Aubameyang and Emile Smith Rowe. Arsenal had 14 points on the table through 8 games so far.
"I think the chemistry is there," Arteta said to CBS Sports, referring to the atmosphere at the Emirates as well as in the locker-room. "I think the connection is getting stronger and stronger. I think that they are both enjoying what they have to do. They are a big part of our team. When there are moments where the stadium lifts our energy lifts, our belief, our confidence. I think they were terrific tonight."
Villa remain in the No. 13 spot with 10 points on the table.
Villa got its lone goal from Jacob Ramsey scored his first goal in 30 PL appearances; he became the youngest side to score for the club since Jack Grealish back in September 2015.
"I'm happy, not just with the finishing but with the set pieces as well," Smith Rowe said to Sky Sports. "I've been working on my crossing as we don't have many right-footed set piece takers."
Rowe's rise to stardom is a unique, yet easy-to-support story, as the boyhood Arsenal fan, the Hale End graduate, is now wearing No. 10 for Arsenal and scoring in front of his people.
"He's the best player in the Premier League running with the ball," analyst Jamie Carragher said of Rowe.
So far this season, only Liverpool's Mo Salah (12) has more goals scored in all competitions for PL clubs than Aubameyang (7).
He has scored in each of his last four #PL matches at the Emirates Stadium.
"We are starting to see what they are all about," analyst  Michael Dawson discussed in regards to the improvements that Arteta has made to the Arsenal team.
"I spoke with the players after the game on Monday and we all agreed that we need to score more goals than the opposition if we want to win football matches," Arteta said earlier in the week.
Plan successfully executed as Arsenal dominated possession 54-46 with twice as many shots on goal compared to Villa.
Arsenal are back in action vs Leeds United in EFL Cup action on 26 October before a Premier League fixture vs Leicester City on 30 October. Aston Villa get set for a Halloween day fixture, 31 October, vs West Ham.
Leave a comment