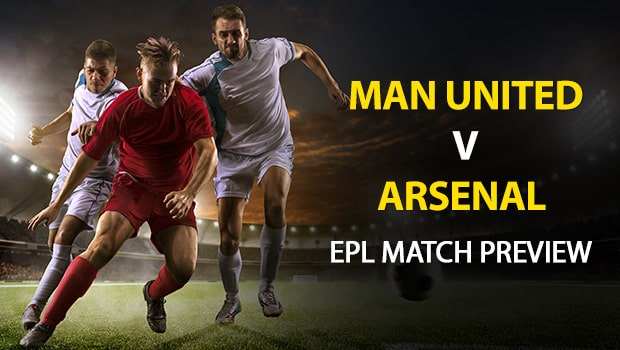 Manchester United vs Arsenal
We've got a big-time matchup Monday at Old Trafford as Manchester United and Arsenal go head-to-head in some must-watch Premier League action. Simulation data has some side value on this one.
Let's take a closer look at where the value is at in this matchup.
Team to Win (Regular Time)
• Manchester United: 2.34
• Draw: 3.72
• Arsenal: 3.00
Spread
• Manchester United -0.5: 2.35
• Arsenal +0.5: 1.67
Total
• Over 2.5, 3: 1.76
• Under 2.5, 3: 2.16
Draw: There's a 27 percent chance this match ends in a draw. That happens in 26 percent of simulations — suggesting no added value on the pick.
The projected score is 1.61 – 1.33, in favor of Arsenal.
Last 6: United have 2 wins, 2 losses and 2 draws in their last six overall. Arsenal have 3 wins, 2 draws and 1 loss in their last six.
Both Sides: Arsenal are No. 4 in the league in corners taken (38), and No. 3 in the league with 9 goals from inside the box. They are No. 2 in the league with 29 saves. Showing some solid production on offense and defense to start this season.
Head to Head: These two sides most recently matched up in Premier League action on March 10, 2019 when Arsenal won, 2-0.
Pierre-Emerick Aubameyang has a 53 percent chance to net the ball for Arsenal. he averages 2.8 shots overall per sim, 1.18 shots on goal per and 0.77 goals per sim.
Marcus Rashford has a 37-to-38 percent chance to score for Man U. He averages 3.31 shots overall per sim, 1.41 shots on goal per and 0.47 goals per sim.
Arsenal +0.5
Simulation data projects Arsenal to be more competitive than picks-makers are indicating. Picks indicate there's a 59-to-60 percent chance Arsenal covers the spread. They either win or finish in a draw in 69 percent of simulations. The added side value on Arsenal is a four-star (out of four) hot trend pick.
Make sure to check all other MLB, NFL, NCAA, NHL, NBA and soccer game predictions from AccuScore.

Leave a comment