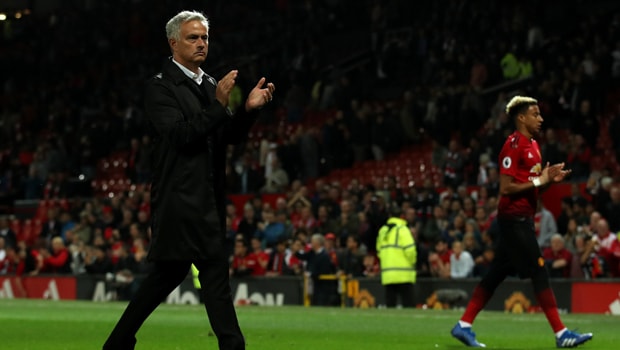 Jose Mourinho has praised the performance of his Manchester United side despite their 3-0 home defeat to Tottenham on Monday night.
The Red Devils went into the match at Old Trafford already under pressure following their 3-2 loss at Brighton last time out and, despite producing an improved display, were undone by Harry Kane's second-half opener and a brace from Lucas Moura.
Mourinho, whose own future has been called into question following United's troublesome start to the season, refused to question his players after the match and he instead praised the unity they showed throughout the contest.
"I just think if anyone that watches this game, and many thousands of our fans look to the game, the one thing they know for sure is the team is united," Mourinho told Sky Sports.
"The team who fights the way they did, showing the empathy and solidarity between players, the dignity to play together for Manchester United and lose at home, of course is difficult for anyone, but it's clear they are united. There is no union without the manager."
The former Chelsea and Real Madrid boss, who later stormed out of his post-match press conference, believes his side were still very much in the contest until Lucas struck his second goal of the game with six minutes remaining.
"The team was playing to change the result, until it was 2-0," added Mourinho.
"We were playing for that and creating enough for that.
"I'm not saying that with a goal we'd win, but we were very much in the game. Only the 3-0 goal smashed the mentality of the team."
The defeat leaves United already six points off the pace in the Premier League standings and they have drifted out to 41.00 to be crowned champions come the end of the season.
Leave a comment