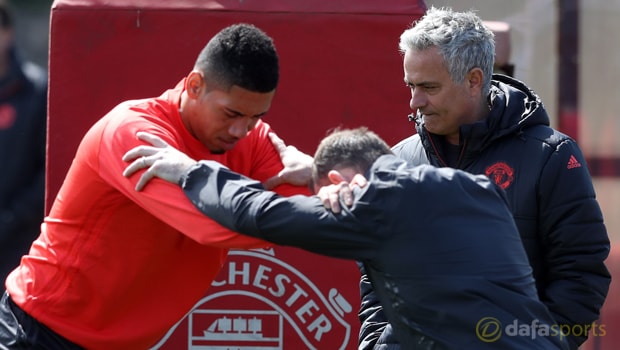 Chris Smalling was not put off by Jose Mourinho questioning his determination to return quickly from injury, the defender has claimed.
Smalling, along with fellow Red Devils defenders Phil Jones and Luke Shaw, was told by Mourinho in April that he needed to show more bravery in coming back quickly from injury but the player says his manager was not fully informed regarding the extent of his problems at the time.
"Obviously he didn't know the full extent [of the injuries] at that time," said Smalling.
"You just keep playing until literally, physically, you can't, and that was the story. But I don't think he knew the full picture then, and once it was cleared up it was all good."
Smalling is on international duty with England this week as they prepare for Saturday's World Cup qualifier against Scotland in Glasgow.
The Three Lions are 1.73 to win at Hampden Park, where Scotland are 5.50 and the draw is 3.50.
According to Smalling, it was a compliment that his club manager was so keen to see him returning from injury quickly and he would have more cause for concern should Mourinho show no interest in his rehabilitation.
"We had a lot of injuries at that time, and he was frustrated that quite a lot of players weren't available," he added.
"It's good when he shows that frustration because it shows he wants you back out on the pitch.
If he wasn't interested, he would just leave you alone and he wouldn't say any of these things.
"So I take it as a positive, as a challenge to get back as quick as I can – which I would have done anyway, regardless of whatever was said."
Leave a comment