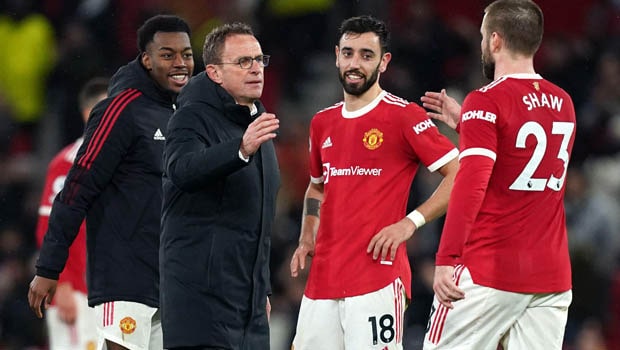 Tuesday night saw Manchester United change their recent situation and result in the Premier League in a match where their victory at the Old Trafford was also significant for a couple of players.
Ralf Rangnick's side was winless in three matches in all competitions before the visit of the seagulls, while Cristiano Ronaldo was facing the longest goalscoring drought of his career. Fellow Portuguese Bruno Fernandez had also been in the discussion mainly because of his lack of goals.
However, the former Sporting Lisbon midfielder was able to seal the win for United with a stoppage-time goal assisted by French midfielder Paul Pogba. It is the fourth goal the French Midfielder will be providing a direct assist for Bruno Fernandez this season in the Premier League.
Before his goal though, Cristiano Ronaldo scored from the spot to end his seven-game goal drought. The seagulls were reduced to ten men in the 54th minute, three minutes after Ronaldo had scored the opening goal of the game.
The win puts Manchester United in the fourth position with 43 points from 25 games, four behind third-placed Chelsea, and two more than West Ham United.
Speaking after the game, Manchester United goalkeeper, David De Gea explained that the second half made the difference between both sides.
"The message (at half-time) was that we are playing at home, and we pressed high in the second half. We controlled the game after the red card, and there was a five-minute spell when they came back. We should be fighting for more things than the top four, but that is the reality. There are many teams fighting for the same position, and with the quality we have we should win a lot of points." De Gea said.
The Red Devils will play Leeds United in the Premier League next weekend before traveling to Madrid to face Atletico Madrid in the round of 16 of the UEFA Champions League next week.
Leave a comment