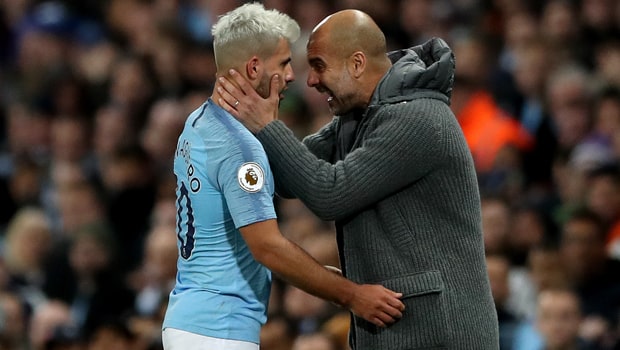 Sergio Aguero says the knee surgery he underwent in April has allowed him the freedom to play the way Pep Guardiola wants him to at Manchester City.
Aguero had an arthroscopy on his knee towards the end of last season after City had wrapped up a record-breaking Premier League title success.
It meant he was fit in time for the World Cup in Russia with Argentina but, more importantly, the 30-year-old forward is now playing pain free for his club.
Aguero, who has scored 11 goals in all competitions for City so far this season, revealed he had "been suffering for a long time" prior to his surgery but now he can play the way his manager desires.
"Luckily, things are going well for me. Pep Guardiola is happy. I try to do what he asked me to do. I try to help the team and be the first one who starts the pressing. Now I feel much better, I can do it more consistently," he told Sky Sports.
Manchester City have failed to retain the Premier League title in two previous attempts but Aguero feels they can become the first club since neighbours Manchester United in 2008/09 to stay on top.
With a squad that has barely changed, bar some useful additions, the striker says much depends on City's ability to stay focused.
"It's not easy to win the Premier League again, but I see the same energy and attitude as last season," he added.
"That gives us confidence for the future. I think if we keep up the same level, winning after winning, we have lots of chances to win again.
"We know what our style of play is. We know how to press, how to start the build-up, how to play, all the movements, etc.
We are almost the same players as last season. I think it's going to depend on us. It's going to depend on our mentality. If we manage to keep focused, we can achieve great things."
City are 1.25 to be crowned champions again this season, with Liverpool second favourites at 4.25.
Leave a comment