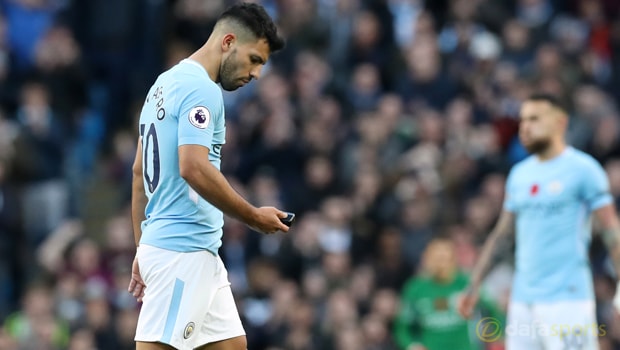 Sergio Aguero has revealed 'the plan' is for him to move back to Argentina to play for his boyhood idols Independiente when his Manchester City contract runs out in 2019.
The 29-year-old goalscorer will see his current deal run out in the summer of 2019, though he retains the option of extending by one year.
Aguero, now City's all-time leading goalscorer, was talking about rumours liking him to other European clubs but he hints his next move is likely to take him back to where it all began.
He joined City in 2011 from La Liga side Atletico Madrid, after having started his career with the Buenos Aires club Independiente, and that is his preferred destination if he leaves the Etihad Stadium.
He said: "It came out that Milan and Real Madrid wanted me and – I don't know where I read it – but they said, 'They just spoiled Independiente's dream.'
"But the idea was always to go back to Independiente when my contract with City runs out in 2019."
Aguero strike against Napoli in the Champions League recently in Italy allowed him to surpass Eric Brook's record of 178 goals to become the club's record goalscorer.
While he considered what he will do next, the forward is content for now to focus his attention on making sure Pep Guardiola's side convert their early season advantage into title glory, after they failed to do so last season.
"I have an option to extend one more year with City where it's the priority but it's always an option," he added. "The idea is to go back [home].
Now, I'm doing very well and hopefully we can win the cup [title], but it's not easy."
Aguero is 5.00 to be leading goalscorer in the Premier League this season while City are 1.17 to win the title.
Leave a comment