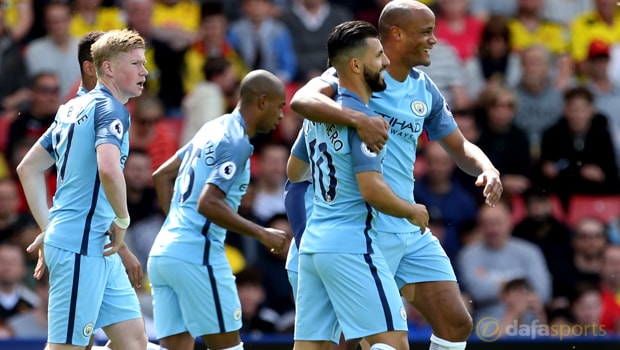 Sergio Aguero has no plans to leave Manchester City this summer and insists last season was a positive one for him personally.
The Argentina forward found himself under intense scrutiny as manager Pep Guardiola benched him following the January signing of Gabriel Jesus.
There was plenty of speculation that the City boss was keen to move Aguero on this summer, although Guardiola has often denied that is the case.
Aguero finished the campaign strongly to score a total of 33 goals in all competitions for City and insists he is determined to see out the remaining two years of his contract before considering his future.
"I still have two years on my contract with Manchester City. I feel very happy here, so I will fulfil my contract to stay here until the end of my contract," he said.
"I have not thought about where to play next. I just want to focus on the work here."
Despite being in and out of the team, the 29-year-old felt that he had once more shown his worth and has no doubts that he remains a big part of City's future.
"I think my season was not bad. My form was pretty good," he added.
"That is true, I missed a lot of games and that stopped me from helping the team score more goals. But overall it was a very positive season."
Aguero was asked by Xinhua what the chances were of his Argentina team-mate Lionel Messi joining him at City but he deflected that question, insisting his friend remains very happy in Spain.
"There isn't a team in the world that would not want to have Messi as a player," he continued. "But I think he is doing pretty well at Barcelona.
So I think he will stay there until the end of his contract." Manchester City are 3.00 favourites to win the Premier League title next season.
Leave a comment